Coatings and sealants are getting more versatile to deal with miniaturization and multiple materials, and tougher to meet requirements for higher reliability in harsh environments. A wide variety of coatings and sealant materials helps guard many different products and structures against corrosion, rust, and damage by salt water, chemicals, and extreme temperatures. Tough environments and multiple materials can be found in the inside of an electronics module, under the hood in high-temperature engine compartments, or on the outside of an aircraft.
Many of the newest ones also cure faster or require fewer process steps to serve the demand for faster processing. Some coatings and sealants have especially good adhesion to many different substrate materials, a growing need in electronics, automotive components, and medical devices. Some target bonding, sealing, and coating for specific industries like medical devices, while others address a broad range of industries, such as electronics, aerospace/defense, automotive, industrial, and medical.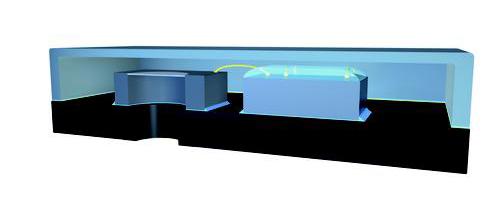 Ongoing miniaturization in consumer electronics has meant a proliferation of MEMS, which can be as small as 2 mm x 2 mm x 0.7 mm, and can require extremely thin coatings. For these, DELO has developed a very thin die coating to go on top of a 1-mm x 1-mm chip by reducing the coating's height, from 150 to 200 microns down to as low as 50 microns, which also reduces the size of the entire sensor package.
(Source: DELO)
Ongoing Miniaturization and MEMS
One major trend DELO Industrial Adhesives is seeing in consumer electronics is the demand for coatings that address continuing growth in miniaturization, said Karl Bitzer, head of product management. The company has responded by devising coatings and sealants that can be used on thinner, smaller components, including tiny MEMS devices.
Ongoing miniaturization in consumer electronics has meant a proliferation of MEMS, which are "miniaturization at its best," said Bitzer. "You get a complete sensor that needs only a total space of, say, 2 mm x 2 mm x 0.7 mm. But it still needs to get smaller, and with the Internet of Things there will be billions of them."
The challenges of coating MEMS components are particularly difficult. For some of these, DELO's customers want a very thin coating on top of the very small component. "For them, we've developed a very thin die coating by reducing the coating's height, from 150 to 200 microns down to as low as 50 microns," said Bitzer. "This means that the whole sensor package gets a lot smaller. The big challenge was to adapt the flow behavior. You dispense the coating in the middle of the chip and from there it must start flowing to completely cover the corners without flowing over the edges. This all happens on top of a 1-mm x 1-mm chip. Also, the adhesive needs to be jettable so that you can dispense it faster."
Miniaturization also affects coatings in other small components. For example, where bonded or encapsulated components are exposed to extreme temperatures and aggressive chemicals, especially resistant epoxy resin adhesives and sealants with special hardeners are often used. To date, though, these have been only heat-curable materials.
A new light-fixable, dual-cure, hybrid encapsulant that's especially suitable for smaller parts offers greater bonding accuracy and easier handling of the cured components, said Bitzer. It can also be used for glob top encapsulation: Its shape becomes frozen during the first, light-curing stage that lasts one to five seconds, so the glob top doesn't melt and flow away during heat curing. In that step, it achieves a die shear strength of more than 1 N on FR4 circuit board material. After heat curing, for example 30 minutes at 150C, the sealant achieves full strength of 50 MPa on FR4. It's also highly resistant to chemicals.
Higher Temperatures in Harsh Conditions
DELO is also seeing a demand for coatings and sealants that can resist higher temperatures in harsh conditions, according to Bitzer. "In different industry sectors and for different materials, reliability has different definitions," he told Design News. "If we're talking about sealing needs in automotive, then higher reliability is definitely a trend. There, we're talking about higher temperatures, such as the motor area in electric cars. Automotive sealants have to remain stable at higher temperatures."
READ MORE ARTICLES ON COATINGS & SEALINGS
For the needs of both automotive and electronics industries, the company has developed a one-component, epoxy resin that withstands temperatures ranging from -65C to 250C, making it a good fit for bonding and encapsulating sensors and semiconductors. This family of anhydride-based adhesives and sealants target automotive, power electronics, and oil drilling applications with their chemical resistance, universal adhesive strength, high stability, and processing characteristics like flexible curing and good flow. Even after 500 hrs of storage at 250C, tensile strength remains 50 MPa, while compression shear strength on ceramic remains at 8 MPa at 220C.