As researchers, designers, and engineers work to develop increasingly advanced and customized medical devices, it is critical to ensure that each and every device is manufactured correctly in a safe and efficient manner.
Yet many problems and bottlenecks in manual assembly and manufacturing procedures continue to spring up, slowing processes and increasing liability risk for manufacturers. And while the edict of the day is to build everything better, smarter, and faster, mistakes tend to arise when factory floors are rushed. This challenge is a familiar one for many automotive manufacturers and assemblers, and their solution has the potential to transform the medical device manufacturing industry.
Augmented reality is a practical, useful tool that is favored by many automotive manufacturers and factories around the world. At its most basic level, augmented reality makes complex concepts and applications simple by placing the right information at the right place, at the right time for line workers in a way that is not possible with standard hard-copy or video-monitor-based work instructions.
In the manufacturing and assembly setting, augmented reality can remove the need for written or monitor-based work instructions by drawing the operator's eye to the action at the right moment, which keeps their attention focused on the task at hand, rather than on complicated instructions. It engages operators to deliver clear and correct results and make them more productive in the process. A projection-based system can display visual information about processes, including pacing and timing, alerts, next steps, process tips, and reminders for each task. One of the great advantages of an intelligent guidance system is that it standardizes the best of human flexibility and intelligence.
READ MORE MEDICAL DEVICE ARTICLES ON DESIGN NEWS:
The evolving healthcare industry is creating demand for medical devices that are low cost but high quality. Liability is a huge issue, and mitigating risk is a crucial element to success. In this vein, augmented reality provides the capability to reduce errors and costs, while improving quality, productivity, and efficiency. Although reducing errors in production -- or eliminating them altogether -- is critical for all industries, they take on greater significance in the healthcare field, where product variation continues to increase and lives depend on the quality of care and equipment.
For example, it is difficult to overestimate the importance of producing pacemakers and hip implants correctly. Augmented reality systems can error-proof and streamline manual operations involving part selection, kitting, assembly, inspection, or maintenance. Systems can be adjusted for a wide variety of manufacturing and assembly uses, while constantly measuring and confirming that each step -- no matter how complex or detailed -- has been completed correctly.
At the same time, the technology can automatically record vast amounts of information that can help medical device manufacturers set benchmarks for the amount of time each task takes to complete -- even creating a digital "birth certificate" for each part built. Not only does this detailed process data ensure that every part has been assembled correctly, but it helps identify bottlenecks and other process challenges that can lead to inefficiencies. By providing clear guides and prompts, augmented reality technology also has the capacity to reduce gaps in training and free up high-level supervisors or trainers for more complex work. Chrysler has documented an 80% quality improvement and a near-40% productivity improvement with augmented reality applied to employee training processes.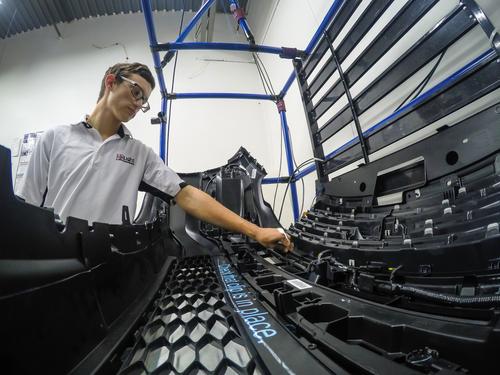 Visual projection of instructions help manufacturing-line workers speed up assembly tasks and reduce errors. Such augmented reality systems also record operational data for visibility into quality and efficiency.
(Source: Light Guide Systems)
Today's medical device companies are crafting a greater variety of devices into product lines than ever before, which is a pain point shared with the automotive space. Manufacturers face the constant challenge of managing a great deal of product variation and customization, oftentimes adapting their teams to produce different parts on the same assembly lines. With so many moving parts and pieces in the assembly process, it is critical for manufacturers to be confident and able to guarantee the quality of their products -- particularly when medical errors cost $700 billion and 200,000 lives annually, according to Health Affairs.
By implementing continuous improvement and lean tools and lessons learned from the auto industry, medical device manufacturers can gain confidence that each and every device was manufactured correctly. Medical device manufacturers with the vision to invest in and embrace new technology, such as augmented reality, can vastly improve their operations, enhance their business, and increase their ability to design and develop life-improving devices.
Engineer, inventor, and entrepreneur Paul Ryznar created Light Guide Systems and is the founder, president and CEO of Novi, Mich.-based OPS Solutions. Novi, Mich.-based Light Guide Systems (LGS), an OPS Solutions patented product, uses proprietary software and high-powered projector systems to guide and confirm completion of complex tasks. From assembly to quality control to training, LGS's technology provides the visualization, traceability, and flexibility demanded by leading companies worldwide. Key industries include aerospace, agriculture, automotive, energy, electronics heavy equipment, and medical. Learn more at www.ops-solutions.com.
Like reading Design News? Then have our content delivered to your inbox every day by registering with DesignNews.com and signing up for Design News Daily plus our other e-newsletters. Register here!

Design engineers and professionals, the West Coast's most important design, innovation, and manufacturing event, Pacific Design & Manufacturing, is taking place in Anaheim, Feb. 9-11, 2016. A Design News event, Pacific Design & Manufacturing is your chance to meet qualified suppliers, get hands-on access to the latest technologies, be informed from a world-class conference program, and expand your network. (You might even meet a Design News editor.) Learn more about Pacific Design & Manufacturing here.