The cloud is being used for lots of things these days, such as storage, design collaboration, editing code online, and manufacturing quantities as low as one.
Technically, 3D printing in the cloud has been around for a while in rather rudimentary form. As we discussed in our recent blog about the Zeus 3D printer/scanner/copier/fax, you can upload your .STL files to various sites to get them printed and shipped. If you'd rather use someone else's design or a photo, you can use content creation sites such as Cubify.
But 3D Systems is changing the medical model industry with its cloud-based Bespoke Modeling service. Surgeons, dentists, and other medical professionals can use the secure service to create and print sophisticated, full-color, 3D anatomical models from CT scans, MRI scans, or any other digital imaging and communications data. Users can view, share, and edit 2D and 3D data files. Models can even be created from selected data in an image, such as tissue or bone.
Click the image below for a slideshow on the service.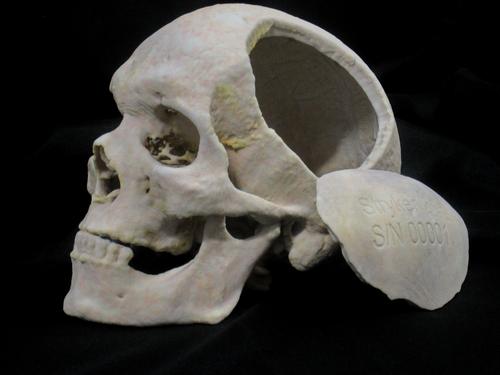 A 3D printed skull and customized implant made using Bespoke Modeling can be used
as a demonstration tool for patients or as a practice tool for surgeons.
(Source: 3D Systems)
Lee Dockstader, vice president of business development for 3D Systems, told us in an email that it offers two other cloud printing services: Quickparts, which is for industrial users of rapid prototyping and injection molds, and Cubify, which is primarily for consumers.
Both websites allow users to upload data for printing services. Cubify also lets users design their own products on cloud applications on the website and then order the model they just designed to be printed and sent to them. I just used this service to get custom printed phone cases made for my kids going off to college.
But the medical model service makes even more sense as a cloud service, since these model sets can be several hundred megabytes in size and are very difficult to handle on a PC. "We have huge cloud-based servers that can process the data in real time and send the results down the Internet as a movie using Microsoft's Silverlight streaming technology."
The traditional process for making medical models can be slow and extremely expensive, he said. Medical modeling software costs $20,000-$30,000 and takes weeks to learn how to use. "For clinical applications it's worth every penny, but for models, it's overkill."
Normally, doctors have to send the data to a medical technician and then wait days or weeks for models that cost hundreds or thousands of dollars each. "But we're talking about taking a CT scan of say a jaw or skull, uploading it to the cloud, making two or three button clicks, and the software makes your model and gives you the price for having the service print it," Dockstader said. "That's a total of less than five minutes." And it typically costs $100 or less per model, depending on who prints it out.
Bespoke Modeling subscriptions start at $30 per month for two hours of modeling time and 10 GBytes of storage, with additional hours available at $10 each. Users must download the Bespoke Modeling Uploader application and run a current version of Microsoft Silverlight. Models can be created within any major Internet browser, as well as on iPhone, iPad, and Android mobile devices. Models can be exported as .STL and .ZPR files and printed using a local printer, a Bespoke Modeling reseller with a ProJet x60 series, or via 3D Systems' online ordering service -- at an additional cost.
Related posts:
{doclink 267358}
{doclink 267310}
{doclink 267004}
{doclink 266958}
{doclink 266774}
{doclink 266575}
{doclink 266413}
{doclink 266382}
{doclink 266319}
{doclink 265687}
{doclink 265097}
{doclink 264842}
{doclink 264282}
{doclink 262621}
{doclink 262205}
{doclink 261369}
{doclink 260918}
{doclink 260399}
{doclink 260118}
{doclink 259420}
{doclink 258906}
{doclink 258652}
{doclink 256862}
{doclink 256731}
{doclink 256092}
{doclink 254875}
{doclink 254513}
{doclink 252308}
{doclink 251526}
{doclink 251513}
{doclink 249160}