Unusual uses for engineered E. coli bacteria have been in the news lately, from the practical to the sci-fi weird in fashion. Last year, UK's Imperial College London biosynthesized the bacteria into renewable propane. And in a spring talk at TED2015, designer Neri Oxan showed off a multi-material 3D-printed wearable embedded with E. coli and other photosynthetic bacteria that fluoresce.
Now Virginia Tech researchers have harnessed E. coli bacteria for its most novel use yet — creating robot brains.
Warren Ruder, an assistant professor of biological systems engineering in the College of Agriculture and Life Sciences and the College of Engineering, has published a paper in Scientific Reports describing his research. The paper's co-author is biomedical engineering doctoral student Keith Heyde, who studies phyto-engineering for biofuel synthesis and collaborated with Ruder in the research. The team used a mathematical model to demonstrate that a bacteria-based living biome can be built on robots and other inanimate devices, and that it can control their behavior. "We found that robots may indeed be able to function with a bacterial brain," he said in a news release from Virginia Tech.
MORE FROM DESIGN NEWS: Slideshow: Feds Study Human Brain; DARPA Wants to Make Robots Autonomous
In the mathematical experiment, the bacteria displayed their genetic circuitry by turning either green or red, depending on what they ate. The theoretical robot in the mathematical model measured the bacteria's color using sensors and a miniature fluorescent microscope. Depending on the color and its intensity, this told the robot where to go and how fast to move. The team coupled and computationally simulated widely accepted equations that describe three distinct elements: E. coli engineered gene circuits, robot movement, and microfluid bioreactors.
Ruder is now building small, mobile robots that can use miniature fluorescent microscopes to read levels of bacterial gene expression in E. coli engineered in his lab. Small bioreactors where the engineered bacteria can live will be placed on mobile robots, where they can direct the robots' behavior. The bacterial systems and the robotic systems will communicate via microfluidics interface technology.
MORE FROM DESIGN NEWS: These 15 Robots Will Weird You Out
These bacteria-robot systems could someday help researchers exploring the interactions between soil bacteria and livestock for agriculture, or lead to robots that dispatch bacteria to clean up oil spills. In healthcare, it could help researchers looking at the role of bacteria's role in controlling gut physiology, which could lead to bacteria-based prescriptions for treating physical and mental illnesses. It could also grant a better understanding of how bacteria that live in the human body affect people's health, mood, and even behavior.
Funding came from the Air Force Office of Scientific Research for the mathematical modeling of gene circuitry in E. coli. The Virginia Tech Student Engineers' Council has provided funding to move these models and resulting mobile robots into the classroom as teaching tools.
Check out the image below to see video and more images from the Virginia Tech project: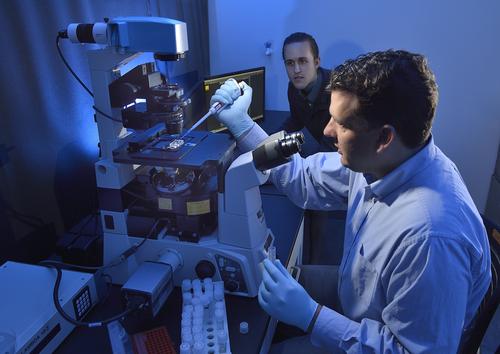 Warren Ruder, an assistant professor of biological systems engineering at Virginia Tech, uses a mathematical model to demonstrate that bacteria can control the behavior of inanimate devices like a robot.
(Source: Virginia Tech)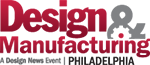 We're heading to Philly! Design & Manufacturing Philadelphia will take place Oct. 7-8. Get up close with the latest design and manufacturing technologies, meet qualified suppliers for your applications, and expand your network. Learn from experts at educational conferences and specialty events. Register today and join us at Philadelphia's premier industry showcase!
Ann R. Thryft is senior technology editor, materials & assembly, for Design News. She's been writing about manufacturing- and electronics-related technologies for 27 years, covering manufacturing materials & processes, alternative energy, and robotics. In the past, she's also written about machine vision and all kinds of communications.