Numerous industries are focused on developing more environmentally friendly materials and products, and the fashion industry is one that could benefit from these efforts. A researcher at Iowa State University has developed a biodegradable film similar to leather that can be used to make clothing, shoes, or handbags.
Young-A Lee, an associate professor of apparel, merchandising, and design, is leading the research, which is using cellulose fibers -- a byproduct of Kombucha tea -- as the basis for the material. The fibers feed off a mixture of vinegar and sugar to grow the film by using a symbiotic colony of bacteria and yeast (SCOBY).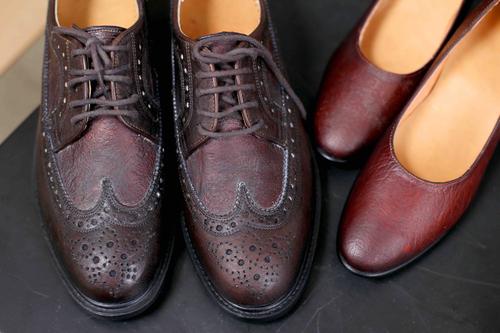 Biodegradable fabric -- strikingly similar to leather -- is being made into clothing, shoes, and purses, from a byproduct of kombucha tea.
(Source: Iowa State University)
"Byproducts come from the Kombucha tea-making process," Lee explained in an interview with Design News. "As known, Kombucha is produced by fermenting tea using 'symbiotic colony of bacteria and yeast.' In the tea-brewing process in a container, a thin layer is formed on top of the media surface. The liquid is used for the tea drink and those layers formed on top of the media surface are usually thrown away. We use those to grow our cellulosic material."
Lee and her team developed a number of pieces of clothing and accessories -- including shoes and a vest -- with the new material, and then tested them with consumers to gauge their reaction. She wrote about the results of the case study in the book Sustainable Fibers for Fashion Industry.
The fashion and textile industry currently produces multitudes of pieces of cheap, disposable clothing, which also is creating a large amount of waste. In addition to that, the chemicals used to develop synthetic materials and dye fabrics are putting water and soil at risk by contaminating them, Lee said.
In contrast, when textiles made with the new material go to the ground, the degradation period/cycle is much shorter than other existing materials," she said. "When thrown away and put under ground, this may be used as nutrients for other nature pieces, such as soil and plants. So this material can benefit for the movement of cradle to cradle rather than cradle to grave."
While organic, biodegradable, and other more sustainable materials can certainly be one solution to the problem of waste from the fashion industry, the flip side is that consumers also demand clothing that is attractive and comfortable. In addition to being sustainable, then, these new materials also must meet the challenge to satisfy what people want out of their clothing, Lee said.
To test textiles developed with the material, Lee and her team asked college students to provide feedback on a vest prototype made from the cellulose fiber. Most thought it was made of leather, rawhide, paper, or plastic. However, while they thought it was an interesting alternative to leather, they were not generally willing to purchase a product made of the material, questioning its comfort, durability, and care.
READ MORE ABOUT MATERIALS:
Lee and her team remain undaunted, and will continue to test the SCOBY-based cellulosic fiber for its viability for textile development. The team received a grant from the Environmental Protection Agency to develop sustainable clothing and shoes from the material.
The biggest challenge they've run into in terms of its viability is moisture absorption from the air and the person wearing the vest or shoes, which softens the material and makes it less durable. "To make this material viable for daily wear not heavily relying on weather conditions -- e.g., raining, snowing -- the water absorbency issue needs to be resolved," Lee said. Cold conditions also make the material brittle, another issue that is under review.
The team also must tackle the problem of mass production because it takes around three to four weeks, depending on temperature and room conditions, to grow the material in the lab, Lee said. She said they are working to solve this and other problems with the material, as well as conducting further tests with consumers, to see if it is worthwhile to use the material in actual clothing products.
"As a team, we also need to run a cost analysis for this material whether this material is marketable," Lee explained. "It still needs some time to be commercially available but I feel we did a great start for sustainable design practices."
Elizabeth Montalbano is a freelance writer who has written about technology and culture for more than 15 years. She has lived and worked as a professional journalist in Phoenix, San Francisco, and New York City. In her free time she enjoys surfing, traveling, music, yoga, and cooking. She currently resides in a village on the southwest coast of Portugal.