If you move fast -- and you've got $3,500 lying around -- you may still be able to buy your dad a Darth Vader helmet replica for Father's Day. A limited edition of 500 has been 3D printed with meticulous detail by the studio that made all the props for Star Wars: The Force Awakens.
If Dad isn't a Darth Vader fan, you've got other choices of replicas from the movie: Finn's FN-2187 Stormtrooper helmet, also in a limited edition of 500, but a comparative steal at $1,750. In much larger quantities other props include: Kylo Ren's helmet for $2,000, Poe Dameron's X-Wing helmet for $1,500, and Chewbacca's bowcaster for $2,500. Then there's Kylo Ren's lightsaber hilt, Rey's lightsaber hilt, and Rey's staff, all for only $1,250 each. Each is sold with a limit of one per household.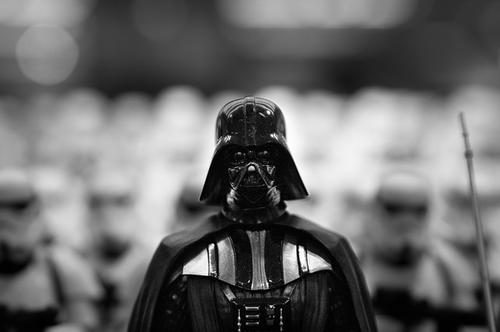 In the video below from Disney's YouTube channel, you can watch Darth Vader's helmet, in its melted form of course, being scanned, created using powder bed 3D printing, and post-processed, including hand finishing. Lucasfilm is offering all these props made by Pinewood Studio's Propshop on a special website. The description for the Darth Vader helmet, as well as the other props, says they are made of "a composition of 3D printing materials, forged items, and cast items."

The description on the collectibles website says the Darth Vader helmet comes with a stand. The helmet weighs 600g, or 1.32 lb, without the stand, and 3,600g, or 7.9 lb, with the stand. It measures 53 cm x 30 cm x 45 cm (20.8 inch x 11.8 inch x 17.7 inch).
According to an article on ABC7 News' site, there are more behind-the-scenes videos coming that will show the prop replicas being made. The article says, "The Disney YouTube channel released a behind-the-scenes look at Darth Vader's melted helmet being created by Propshop, and will be adding more video reveals each month for the new Star Wars Collectibles."
READ MORE ARTICLES ON 3D PRINTING:
Ann R. Thryft is senior technical editor, materials & assembly, for Design News. She's been writing about manufacturing- and electronics-related technologies for 28 years, covering manufacturing materials & processes, alternative energy, machine vision, and all kinds of communications.