IoT Technologies Present and Future Converge at Sensors Converge
IoT Technologies Present and Future Converge at Sensors Converge
Sensors, embedded products, autonomous technologies, even the metaverse all meet in San Jose.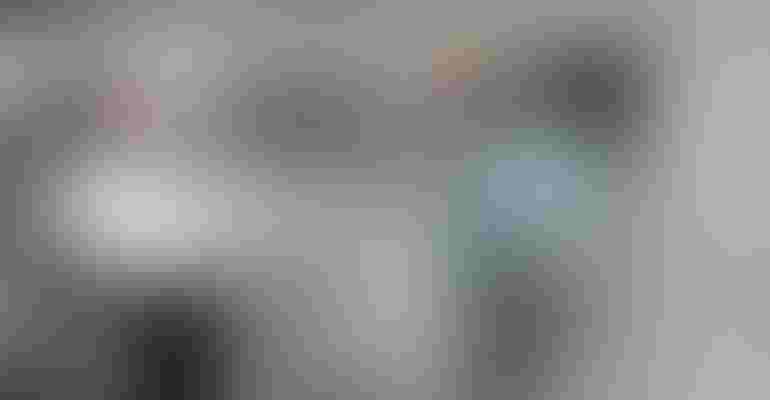 Sensors Converge will take place June 27 through 29 at the McEnery Convention Center in San Jose.
Image courtesy of Questex
In our connected world, sensors are everywhereꟷ on the plant floor monitoring processes, in the automobile monitoring the engine, in the home keeping track of energy usage, and in your Fitbit monitoring your heart rate and other vitals. The all-important role sensors play in our lives will be on full display on Sensors Converge, taking place at the McEnergy Convention Center in San Jose Monday, June 27 through Wednesday, June 29.
Formerly called Sensors Expo, the show's name change reflects the evolving role sensors are playing as the IoT (Internet of Things) has transitioned society in recent years, where data is stored online and increasingly in the cloud for retrieval and analysis. Increasingly, sensors are the enabling factor in enabling companies to engage in predictive analysis for equipment downtime and maintenance, health treatment regimes, crop growth, and numerous other uses.
While the bulk of the show's proceedings will take place on Tuesday and Wednesday, even Monday's pre-show events should generate lively discourse. One all-day symposium, titled "Sensors Converge With Energy Harvesting to Enable Ultra-Low Power IoT Deployments," will discuss how many current technologies have come together to enable the development of IoT networks that employ energy harvesting features.  Self-powered energy sources, intelligent power management, semiconductors/MEMS advancements, low-power wireless communications, energy storage, and test/validation have converged to optimize energy efficiency, utilization, and therefore battery life. The symposium will discuss the best practices and guidelines for design engineers and those responsible for delivering products to market. 
A second all-day Monday symposium, titled "Wearables, IoT, and Other High-Volume Application Opportunities for Printed, Flexible, Stretchable, and E-Fabric/Smart Sensors and Sensor-Based Systems," takes a deep dive into the significant advances in materials and production methods for flexible sensors. While these technologies found early use in military applications, they have become key enablers for wearable sensors for e-health, recreational, and other IoT sensors as well. The symposium, chaired by industry sensor expert Roger Grace of Roger Grace Associates, will look at electronics and sensors that are fabricated on flexible plastic substrates or printed/woven into fabrics, and manufactured through roll-to-roll or other high-volume methods. Advantages include low unit cost, mechanical robustness, shape conformity, light weight and low profile.
Lively Keynotes
Sensors Converge has long been known for interesting keynotes from speakers with a diverse knowledge and skill set, and this year is no exception.
In the opening keynote Tuesday, actor and environmentalist Adrian Grenier, UN Environment Goodwill Ambassador, Investor and star of Netflix's Clickbait and HBO's Entourage, will discuss how tech has helped forge more sustainable future. An environmental advocate, Grenier created Earth Speed - a docu-series on environmental innovators who are solving real problems. He also co-founded the multi-media platform SHFT.COM, an online space for people to connect, acquire, and interact in a more sustainable and conscious manner.
Robotics rely heavily on sensors for information to perform their tasks and interact safely with people, so it's no surprise the second keynote session on Tuesday delves into this fascinating topic. Dr. Kate Darling, an expert in robot ethics and MIT Media Lab research specialist, will discuss the implications and ethnical quandaries and challenges involved with robots as they take on more of the tasks that humans do. Darling will look at what robots and AI can and cannot do. More important, she will explore the emotional connection between humans and robots, and examine how this interaction will shape our own interactions with each other in the future.
Conference Sessions and Exhibits
This year's conference program contains dozens of sessions covering the latest developments in embedded technology, IoT & wireless, 5G, energy harvesting & power management, connected devices, test and measurement, smart buildings & cities, autonomous technologies, MedTech, Space, and emerging applications.
There will also be several hands-on workshops. In one, a Microsoft Azure specialist will guide attendees through designing an IoT connected sensor system, by configuring Avnet's Azure Sphere Starter Kit for a variety of sensor-to-cloud applications. Attendees will take home an Avnet Sphere Starter Kit and two MikroE click boards to enable follow-on experimentation and learning. 
This year's Sensors Converge will have over 200 exhibitors representing a who's who in sensor technology. The exhibitor list can be found here.
Embedded and Autonomous Technologies
In recent years, Sensors Converge has morphed from a conference covering mostly sensor technologies to one that also covers technologies that rely heavily on sensor inputs, such as embedded and autonomous.
Co-located with Sensors Converge, this year's Embedded Technologies Expo will feature a number of sessions related to embedded system development and issues. One interesting session Tuesday morning, titled "Everything You Always Wanted To Know About Hardware Attacks" will discuss the hardware attack on the Apple AirTag, where full access to the device was gained. The session will also cover various classes of attacks, and what techniques are available to make attacks less likely to succeed.
Also co-located with Sensors Converge is the Autonomous Technologies Conference, taking place Monday and Tuesday. It will look at the advancements and challenges in autonomous vehicles and include a number of sessions on vehicle sensor technologies, such as LiDAR. One case-study session Monday morning, titled "Real World Level 4 and 5 Service Deployment, Learnings and Technology Development Today and Tomorrow," will look at how mobility-as-a-service company Beep has implemented fully autonomous transport shuttles at a number of locations throughout the U.S., including Yellowstone National Park.
Behind the Metaverse
The growth of augmented reality and virtual reality is closely tied into the development of advanced sensors. This year, Sensors Converge gains yet another co-located show, called the Metaverse Global Congress. This Tuesday and Wednesday event will have a number of sessions examining the current landscape in metaverse technologies. Some topics include metaverse education, virtual commerce, digital rights, and even fashion.
Sign up for the Design News Daily newsletter.
You May Also Like
---
Sep 12, 2023
The Battery Show brings together engineers, business leaders, top-industry companies, and innovative thinkers to discover ground-breaking products and create powerful solutions for the future.
LEARN MORE