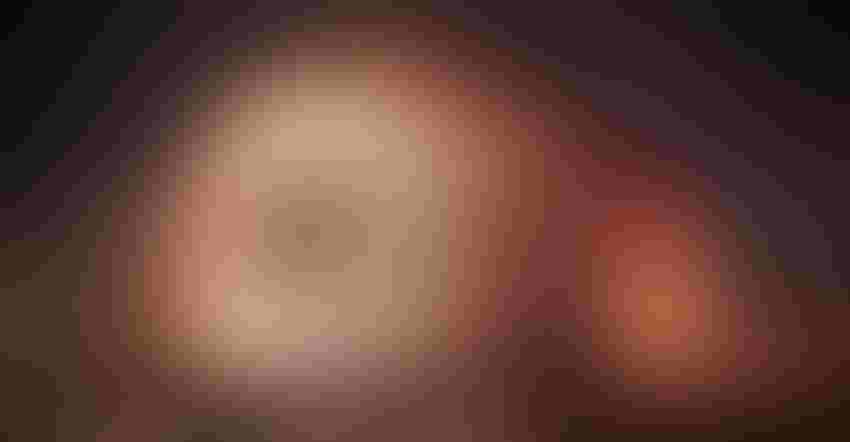 The Sphere Las Vegas greeted viewers with this message when the exterior illuminated in September.
Sphere Entertainment, Inc.
The ominous-looking Death Star whose construction dominated the Las Vegas skyline lit up in September, when activation of its exterior display instantly converted the Las Vegas Sphere into a whimsical presence whose emoji faces have appeared on social media as the eyes seemingly track passing airliners and peek in windows of neighboring hotels.
This attention-grabbing exterior show is secondary to the Sphere's main purpose of providing an indoor entertainment space like no other. Bands like U2 can perform while surrounded by astonishing imagery on the Sphere's interior displays, providing a memorable performance venue experience.
From Imagination to Reality
But how did they do it? The technology needed to accomplish the interior and exterior displays is impressive, effectively creating a virtual reality simulator on an incredible scale. The Sphere is the world's largest spherical structure, at 516 feet across its base and standing 366 feet high.
It can seat 17,600 guests for shows or pack in 20,000 people using standing room. They'll be treated to a show on a wrap-around 16,000 x 16,000-resolution display screen that is the world's highest-resolution LED display.
Ten thousand of the Sphere's seats are built with an infrasound haptic system that provides vibration to go with the sound and light show. The Sphere's beamforming audio system promises a headphone-like sound experience without needing the headphones.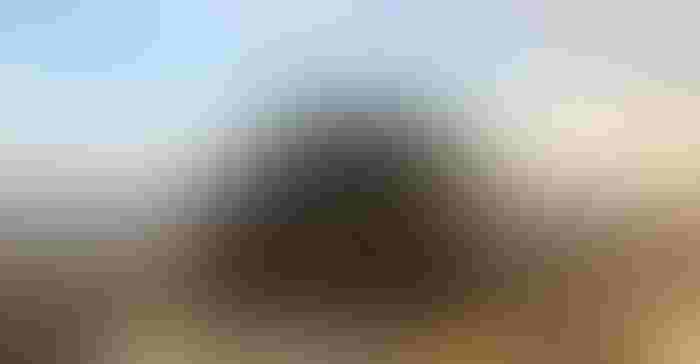 In December 2022, the unfinished Death St-, er, Sphere, was a great source of interest in Las Vegas. Source: Dan Carney
The exterior display provides more than a half-million square feet of image space that displays 256 million colors to render its compelling images.
LED video lighting specialist SACO Technologies, Inc. provides the custom-made hockey puck-sized LED modules that populate the Sphere's exterior, each puck packing 48 LEDs and powered by SACO's BlackJack 4K processor.
The 160,000 square-foot (that's more than 3 acres!), 240-foot-high interior surface is covered by SACO's custom LED tiles, powered by the company's rack-mounted V-Brain power source and BlackJack 4K processors.
So Much Processing Power!
Video specialist 7thSense provided the imagery to fill these LED displays using leading-edge media serving, pixel processing, and show control technologies. The signals that drive the interior and exterior displays are similar, but the interior display is higher resolution so it can show more photorealistic images than the exterior. Viewers probably won't notice much difference, considering that the exterior display will be typically viewed from a much greater distance than the interior.
The video signal flow to the screens is uncompressed media that served to a high-speed network from a Network Attached Storage (NAS) system to a bank of 7thSense's Actor media servers. These servers are 7thSense R-Series 10 hardware, running 7thSense's Actor media server software.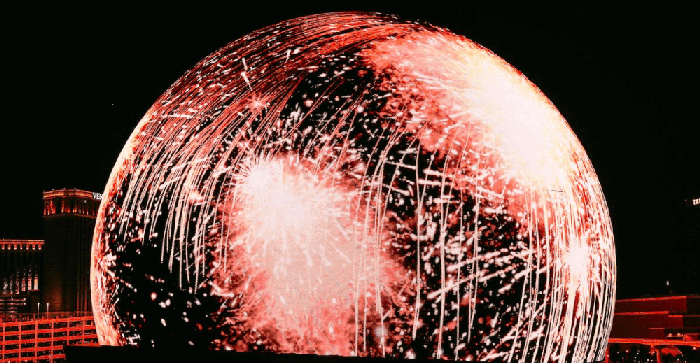 The many phases of the Sphere. Source: Sphere Entertainment, Inc.
They play back the media and add the necessary geometric adjustments to account for the sphere's curved surface and the resulting irregular placement of the LEDs. The curved dome panels have varying pixel pitches and sometimes the panels must be a different shape, requiring pixels to be dropped. The media servers and pixel processors handle geometry adjustments to make sure images coming into the system are represented correctly on the display.
The Actors send SMPTE ST 2110 uncompressed video streams on another high-speed network to 7thSense Juggler pixel processors. This signal can also include streams of video from other sources, such as generative media servers, cameras, and production truck feeds.
The Juggler pixel processors can scale, window, and layer multiple video inputs into a composite canvas and send the resulting pixel canvas to the LED panels. The entire system is synchronized to a Precision Time Protocol clock on the ST 2110 network. 
The Actor media servers are 7thSense R-Series 10 hardware, running 7thSense's Actor media server software. There are also additional R-Series 10 servers to run generative applications such as Unity, Unreal Engine, TouchDesigner, or Notch. 
"The pre-rendered content at Sphere is stored on a network-attached storage (NAS) solution and streamed in real-time to dozens of media servers, which each output 4K video at 60 frames per second over an ST 2110 distribution network – a world-first in terms of technology capability at this scale for a live entertainment venue," stated 7thSense chief technical officer Richard Brown.
"7thSense's Juggler pixel processors handle combining playback media with other video sources, such as cameras, to create overall compositions that tell larger-than-life immersive stories," he continued. "The integration of these products into Sphere isn't just a step, but a leap forward in our journey of innovation."
Amazing Audio
The Sphere's audio system is just as technologically sophisticated as the video. The product is dubbed Sphere Immersive Sound, and it was developed by HOLOPLOT, a Berlin-based audio company specializing in ultra-precise control over sound propagation and localization. The company earned a spot on Time's "Best Inventions" list for 2022.
In preparation for its use in the Las Vegas Sphere, Sphere Immersive Sound, powered by HOLOPLOT debuted last year in New York's Beacon Theater, where the company says it has set a new standard for sound quality in performance venues.
The Sphere's installation of this audio system incorporates 1,600 permanently installed and 300 mobile HOLOPLOT X1 Matrix Array loudspeaker modules, with a combined total of 167,000 individually amplified loudspeaker drivers.
HOLOPLOT's 3D Audio-Beamforming and Wave Field Synthesis technology transform how audio is delivered in large-scale venues because audio transmission losses are fully compensated for by HOLOPLOT's algorithms in the optimization engine, resulting in clear, full-range sound with virtually no coloration of the sound.
The challenge with loudspeakers in traditional venues is that audio quality diminishes with distance from the speakers because of uncontrolled sound wave propagation.
HOLOPLOT's 3D Audio-Beamforming technology uses algorithms to create highly controlled and more efficient soundwaves than conventional speakers. This helps ensure that sound levels and quality remain consistent from the loudspeaker to the listener, even over large distances.
This precision even lets performance venues send unique audio content to specific locations in the venue, creating the possibility for different sections to hear completely different content,  such as languages, music, or sound effects.
Not only that, but the system can generate a virtual point of origin for sound so that it doesn't seem like the sound is coming from the speakers. The company says this capability can make a listener think they are hearing a whisper in their ear rather than a sound generated by a distant loudspeaker.
"From the beginning, HOLOPLOT has been focused on radically transforming audio technology, rethinking the underlying physics of sound reproduction as we know it," said HOLOPLOT's CEO, Roman Sick. "Working alongside Sphere Studios on Sphere Immersive Sound has been a truly thrilling opportunity for our team, challenging us to extend the boundaries of our technology at an unparalleled scale and create a revolutionary listening experience."
Get to the Bottom of It
At the other end of show-goers' experience is the feedback they'll get from 10,000 of the seats in The Sphere that are fitted with haptic feedback provided by professional grade amplifier specialist Powersoft, which is based in Florence, Italy.
Powersoft provided patented IPAL (Integrated Powered Adaptive Loudspeaker) technology used in the HOLOPLOT X1 system's subwoofers. An IPAL-equipped system offers unprecedented acoustic performance and complete control of sound system reproduction, regardless of acoustic load and conditions, according to the company. In addition, these amplifiers are 40 percent more power efficient than conventional amps.
Additionally, Sphere's 10,000 haptic seats are integrated with Powersoft's infrasound system, which uses compact transducers to produce haptic feedback that adds to the convincing, realistic experience.
Powersoft's patented moving-magnet technology is more durable, accurate, and efficient than conventional solutions, relying on an audio signal with ultra-low-frequency reproduction to make the chairs vibrate and shake as desired for each performance. This vibration is backed by sound channeled directly to the seats from 718 Powersoft Quattrocanali amplifiers.
In combination, these cutting-edge examples of technology in each discipline in the Sphere seem to represent the emergence of a new kind of immersive entertainment technology, maybe similar to the introduction of IMAX films in the 1970s.
Perhaps, as with IMAX, all major cities will soon have an event space similar to the Sphere so people can experience this without traveling to Las Vegas. And if they don't put a Star Wars Death Star image on The Sphere's exterior display on Star Wars Day, May 4th, I think we should riot!
Sign up for the Design News Daily newsletter.
You May Also Like
---
Sep 12, 2023
The Battery Show brings together engineers, business leaders, top-industry companies, and innovative thinkers to discover ground-breaking products and create powerful solutions for the future.
LEARN MORE