Texas Instruments has rolled out the Sitara processor platform that will support the Ethernet Powerlink industrial automation protocol, producing a line of on-chip control offerings covering simple field devices to more powerful solutions for main controllers on Industrial Ethernet networks.
Ethernet Powerlink is a protocol said to be optimized as an in-machine network and intended for applications with high-frequency data exchange. In order to meet the requirements of high-frequency applications, the interface has a need for higher processing rates, low latency, and minimal jitter.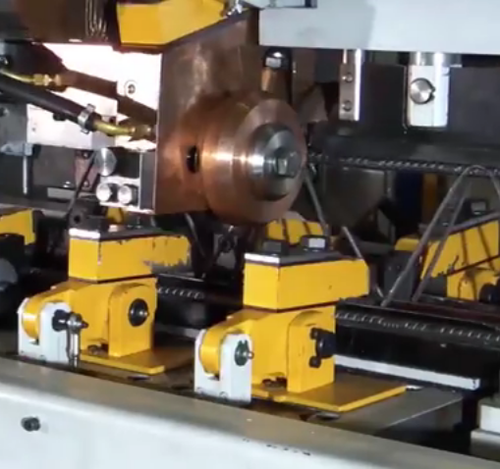 A welding machine application being run on Ethernet Powerlink control and communications.
(Source: Ethernet Powerlink)
"The Sitara platform provides a low-cost solution that offers both a very small footprint and low power consumption," Sari Germanos, business development manager for B&R Industrial Automation, and technology marketing manager for the Ethernet Powerlink Standardization Group, told Design News during a recent interview.
[Visit B&R Industrial Automation at Booth 4415 at Pacific Design & Manufacturing, Feb. 9-11, at the Anaheim Convention Center.]
Germanos said that because it implements an ARM core with scalable architecture on the same silicon, the Sitara processor family can be used with dumb field devices; controllers, such as drives; and CPUs for main controllers that are being deployed as network master controllers. The current implementation covers slave devices only, while TI is working on a master network solution, as well.
Factory Communications Solution
Modern factory automation systems employ everything from field devices for I/O, motor control, and flow control to programmable logic controllers and motion controllers to human-machine interface panel management.
"Powerlink is used across all three levels," said Punya Prakash, TI's worldwide business manager for industrial and energy automation, and "to complement that within the TI portfolio, we have to provide solutions on all three levels using a very scalable ARM architecture."

The Ethernet Powerlink communications scheme consists of a bus master (Managed Node, or MN) and several slaves (Controlled Node, or CN). The MN controls the bus and defines the timing and polls each CN cyclically during the isochronous phase. During that time, real-time critical data (PDO) will be transferred. The start of the isochronous phase is indicated by a SoC message that is also used to synchronize all slaves. The isochronous phase is followed by a synchronous phase, where all non-real-time critical data such as TCP/IP traffic will happen.
(Source: B&R)
For field devices, TI is rolling out for design engineers Sitara AM335x processors with ARM Cortex A8 or A9 cores. The AM57x processors with single and dual Cortex A15 cores are being aimed at high-level controllers.
The common TI technology uses programmable real-time units to implement Powerlink's underlying openMAC technology, said to yield low-latency industrial Ethernet capabilities from a single-chip design, with an ARM core that complements the application layer. At the top of the line, the dual-core A15 with complimentary DSP cores provides communication ability beyond factories to smart grid applications.
READ RELATED ARTICLES ON DESIGN NEWS:
Germanos said the single-chip Sitara platform is another option for industrial automation designers looking to use the Powerlink protocol. Users have primarily implemented Powerlink through field programmable gate arrays (FPGAs), but when the goal is to build very small devices, designers may have hesitated with FPGAs because they generally require more real estate and more chipset support.
With a single-chip solution, designing the electronics interface becomes easier, and the scalability allows device designers to employ it across a device line as opposed to having to use a different chip for each type of device.
Outside the factory control environments, Prakash said that TI sees interest in industrial Ethernet as a technology that can implement smart grid and smart meter applications.
There is also huge upgrade potential in controls as well, especially when deterministic control capabilities are essential. With requirements to control nuclear plants and integrate renewable energy solutions such as wind and solar that come with smart grid development, deterministic communication in the back end will be important.
Al Presher is a veteran contributing writer for Design News, covering automation and control, motion control, power transmission, robotics, and fluid power.
Like reading Design News? Then have our content delivered to your inbox every day by registering with DesignNews.com and signing up for Design News Daily plus our other e-newsletters. Register here!

Design engineers and professionals, the West Coast's most important design, innovation, and manufacturing event, Pacific Design & Manufacturing, is taking place in Anaheim, Feb. 9-11, 2016. A Design News event, Pacific Design & Manufacturing is your chance to meet qualified suppliers, get hands-on access to the latest technologies, be informed from a world-class conference program, and expand your network. (You might even meet a Design News editor.) Learn more about Pacific Design & Manufacturing here.