Schneider Electric Motion has released a new, ultra-compact programmable motion controller with the same power and features as its MDrive integrated motors but better suited for applications where space is a concern, the company said.
The Lexium Motion Module (LMM) is a departure from the company's existing Lexium MDrive integrated motors, with the removal of the integrated motor to provide a chip-level motion controller that satisfies applications with extremely limited space, Sue DalPonte, marketing manager for Schneider Electric Motion, told Design News.
"Any industry that measures their applications in millimeters versus inches can benefit from the Lexium Motion Module," she said, adding that the motion controller is a particularly good fit for life science and laboratory automation applications, where the high cost of clean space is a critical consideration.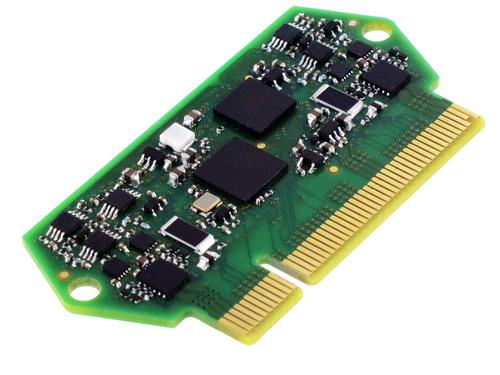 The new Lexium Motion Module from Schneider Electric Motion is a departure from the company's existing Lexium MDrive integrated motors, according to the company.
Schneider Electric Motion
The new module includes MCode, the programming language for MDrive products, DalPonte told us. Being built on a common platform can help speed proof-of-concept and enable engineers to develop and test with all-in-one MDrive products while simultaneously designing a custom printed circuit board (PCB), she said.
"LMM can benefit applications that rely on custom-built PCBs, eliminating much of the development effort required with traditional chip-level solutions, while fitting in a package significantly smaller than traditional panel mount solutions," DalPonte said.
[Visit Schneider Electric Motion at Booth 3230 (where it will unveil LMM) at Pacific Design & Manufacturing, Feb. 9-11, at the Anaheim Convention Center.]
The module also can work with standard, off-the-shelf boards that are available for the LMM, including isolated I/O, locking pluggable connectors, and serial RS-422/485 programmable motion or CANopen. A serial communication cable with mating DB9 connector is available for plug-and-play USB interface, according to the company.
Similarly, Schneider also offers a variety of motors for LMM applications. NEMA sizes 8 (20 mm), 11 (28 mm), 14 (36 mm), and 17 (42 mm) are used most frequently with 1.5A LMM units. Alternate LMM power levels, communication platforms, motor sizes, and styles also are available.
READ MORE MOTION CONTROL ARTICLES:
Elizabeth Montalbano is a freelance writer who has written about technology and culture for more than 15 years. She has lived and worked as a professional journalist in Phoenix, San Francisco, and New York City. In her free time she enjoys surfing, traveling, music, yoga, and cooking. She currently resides in a village on the southwest coast of Portugal.
Like reading Design News? Then have our content delivered to your inbox every day by registering with DesignNews.com and signing up for Design News Daily plus our other e-newsletters. Register here!