Reader Caption Contest: Old Time Factory Floor
Reader Caption Contest: Old Time Factory Floor
Design News readers are asked to submit their captions for a cartoon, as part of our monthly reader caption contest.
Does this picture remind you of your first workplace? OK, perhaps it predates your personal experiences by about a century, but we're sure you can come up with a caption that's both apt and hopefully offers a humorous take on the situation. For example: "It's a wood chipper, linear actuator, and PLC all rolled into one!" or "Can engineering have a little more time to get all the bugs out?"
Since neither of those lines are funny, we're sure you can do better. Add your caption to the comments field below. In about a month, we'll put the best submissions up and the winner will earn the awe of his or her fellow readers.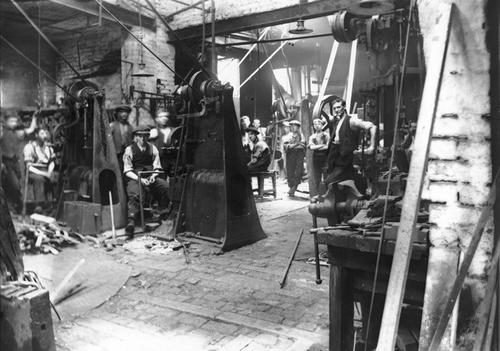 Add your humorous caption in the comments section below.
Sign up for the Design News Daily newsletter.
You May Also Like
---
Sep 12, 2023
The Battery Show brings together engineers, business leaders, top-industry companies, and innovative thinkers to discover ground-breaking products and create powerful solutions for the future.
LEARN MORE