National Updates LabVIEW in Shift Toward System Design
National Updates LabVIEW in Shift Toward System Design
National Instruments updated its graphical programming language at NIWeek, introducting LabVIEW 2011.
National Instruments used the setting of its big annual NIWeek conference in Austin, Texas, to reemphasize its shift away from being a point provider of test and measurement solutions and toward being an enabler for all phases of system design.
"It's a platform-based approach to visualizing and implementing systems," says Ray Almgren, NI's vice president of product marketing, in reference Graphical System Design. GSD is the tagline NI is applying to virtual instruments powered by its LabVIEW graphical programming software.
At the show, NI updated that flagship product, which allows engineers to set up complex test and measurement scenarios without command line-level software smarts. The new version, LabVIEW 2011, adds support for additional engineering-specific software libraries, along with the ability to reuse code for Microsoft .NET and Xilinx field-programmable guide arrays.
NI also emphasized that it was expanding the role of LabVIEW in system-level design, not only in its bread-and-butter test and measurement sector, but also in the industrial embedded arena -- its shorthand for automation and control.
That's all of a piece with NI's overall objective of moving customers away from the historical perception that it's a data acquisition company, albeit one that plays in a large variety of markets ranging from physics to embedded digital signage.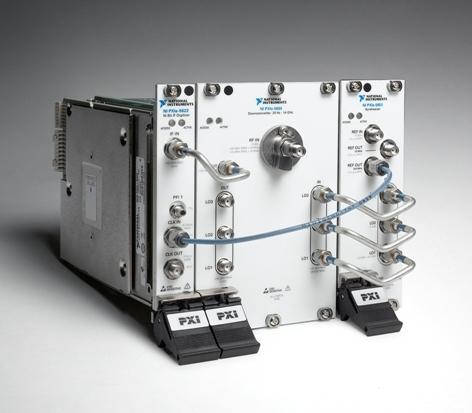 National Instruments' new NI PXIe-5665 14GHz radio-frequency signal analyzer.
Instead, NI wants its PXI form-factor board-level instrumentation hardware and its RIO and CompactRIO monitoring and control boards to be seen as supporting the full design cycle, from prototyping through to test and deployment. It also aims to position itself at the center of a broad tools ecosystem, where third-party vendors can add libraries and plug-ins that connect their devices to LabVIEW via an app store.
When it comes to design-cycle support, NI does have a powerful story to tell about the wide applicability of its virtual instrumentation approach, which enables a LabVIEW-using engineer to turn its modular hardware toward almost any task.
"We see software as the center stage of how instrumentation is built," NI president and CEO James Truchard told the 3,300 attendees at Tuesday's keynote address. "The software is the instrument."
Fighting perceptions
On the down side, there are several challenges that will make NI's rebranding task -- in play for a good while now -- less than a free ride. For one, engineers who came of age in the analog era and are thus now in management positions at NI's base of potential customers still tend to view fixed-function instruments such as those from HP, Tektronix, Agilent, and Rhode & Schwartz as the gold standard in test equipment. That may be a generational perception, and the gear may generally be more expensive than NI's, but it's a marketing impediment NI will have to overcome.
Another operational difference in the marketplace is that NI tends to be very strong in production validation testing. That's where gear can be used in a "set-and-forget" mode for rapidly repeated testing of devices coming off manufacturing lines.
In contrast, high-end, single-function test systems tend to retain their dominance in the early prototyping and design stages. That's where engineers have more of a need to tweak and iterate manually as they grope their way toward more finished designs. That said, NI is working hard to close any perceptual and real gaps.
Equally important on a technical basis will be NI's ability to demonstrate it can compete in the most stringent test settings. That would include the upper reaches of the radio frequency spectrum. NI product managers came to the NIWeek keynote prepared to do just that. They demonstrated the new NI PXIe-5665 14GHz spectrum analyzer, which can be controlled with LabVIEW.
NI also showcased an advanced smartphone prototyping scenario of an 8x88 MIMO (multiple input, multiple output) matrix in action. The setup mimicked the processing needed to support an over-the-air data rate of 1 Gbit/s.
Indeed, one of the sore points for this observer was the clear implication that cellphone design offers both the biggest design challenges and the largest market. The former is clearly not true, but that latter may well be, so it's nothing against National to note that it's merely gravitating toward where the users are.
For design engineers in the automation and control, industrial, embedded, and factory spaces, the new LabVIEW features, along with the bevy of product additions in NI's modular hardware lines, clearly bring improved flexibility and utility to numerous applications while broadening the company's market reach.
Sign up for the Design News Daily newsletter.
You May Also Like
---
Sep 12, 2023
The Battery Show brings together engineers, business leaders, top-industry companies, and innovative thinkers to discover ground-breaking products and create powerful solutions for the future.
LEARN MORE