The four participants in a critical micro/miniature cold value chain include the component manufacturer, the material supplier, the tooling provider, and the machinery manufacturer. Each can provide significant input to a successful execution.
Here, we are going to show how the four work together.
Component manufacturer. Since the component manufacturer is the primary contact with the customer, we'll start there. The component manufacturer naturally takes the lead in coordinating input from the other participants and presenting options and alternatives to the customer to improve component value.
In our case, Sussex Wire serves as the component manufacturer. A designer and manufacturer of specialty metal parts, Sussex uses advanced engineering solutions for tool design, stress and strain analysis, and document control. The tools allow the engineering team to develop prototypes for their customers' NPD staff to help them predict the ultimate qualities of the product.
The cold forming process starts with analysis of part geometry, including optimal material and dimensional qualities and limitations, as well as analysis of tool design, to allow development of tooling that can withstand repetitive impact to yield exceptionally long life with complementary precision.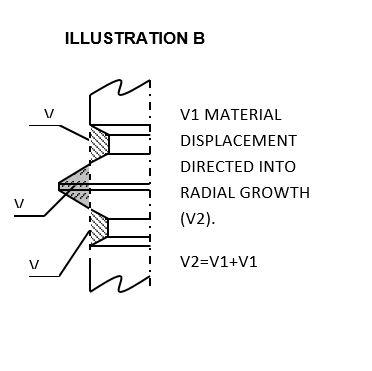 This illustration shows the thought process that is needed and the information required for the tool designer to work around.
(Source: Sussex Wire)
In-house tool design is accomplished by 3D using parametric modeling to reduce lead times. Stresses and strains induced during cold forming can be predicted using finite element analysis (FEA) software. Information from these analyses can be provided to the customer to assist their designers to predict the strength of the product. FEA software is also used to predict final shape using part forming analysis.
Concurrent with component and tool design, one needs to start a discussion on materials, a principal and fundamental factor related to manufacturability. Certain alloys that work for machining simply don't do as well in a cold forming environment. On the other hand, a material perfectly suited to cold forming may require an exception by the customer to accommodate the roll forming process and its associated benefits. These considerations are best worked out early to avoid engineering delays in the later stages of product development.
Click here to read "The Cold Forming Value Chain in Micro/Miniature Component Design - Part 1"
Materials supplier. Carpenter Technology Corp. develops proprietary iron-, nickel-, cobalt- and titanium-based materials ideally suited to cold forming applications, and is a frequent source for Sussex Wire's custom component projects. Numerous specialty materials are very well-suited to cold forming, and so expert materials counsel during component design can be rewarding in terms of selection for ultimate strength, geometry, manufacturability, and other critical properties.
According to Carpenter's white paper, Heading Hints, A Guide to Cold Forming Specialty Alloys, heading is a metalworking process that goes back before the turn of the century and for many years was used only to produce simple fasteners. Today heading is a high-speed, automated, and multi-station operation that is capable of producing not only increasingly complex metal fasteners economically, but a growing variety of other components, including some that are asymmetrical. Combined with this dramatic improvement in heading equipment is the ability to successfully cold form parts from tougher metals, including stainless steels and high-temperature alloys. In other cases, analyses which have been modified for cold forming provide a means for the economical production of certain fastener designs. Tougher tool steels extend the life of heading dies.
Producers like Carpenter also make alloys that are versatile enough to meet fabrication operations that call for both heading and machining. For example, Carpenter's 302HQ-FM stainless combines the advantages of a popular cold heading grade and a free machining grade.