Augmented Reality Becomes the New Plant Instructor
Augmented Reality Becomes the New Plant Instructor
DMDII is working with a number of partners to create and utilize augmented reality instructions for the plant floor.
Your new instructor on the plant floor may show up in an augmented reality headset. The Digital Manufacturing and Design Innovation Institute (DMDII), a UI LABS collaboration, has launched two augmented reality (AR) projects. The projects address the use of AR on manufacturing shop floors.
One of the projects, "Manufacturing Work Instructions on Wearable and Mobile Devices with Augmented Reality," will be led by the Rochester Institute of Technology. The other project, "Authoring Augmented Reality Work Instructions by Expert Demonstration," will be led by Iowa State University. Both projects explore the potential that AR holds as new technologies transition from consumer applications to the industrial sector.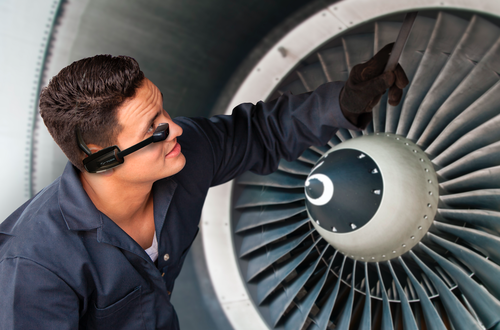 A technician uses augmented reality glasses to inspect a jet engine.
(Source: Vuzix.)
AR for Assembly and Service
Both of the projects run by DMDII will involve plant knowledge. One will explore using AR instructions, while the second one develops the process to create those instructions. "The two augmented reality projects are significantly different," Michael Howard, project manager at DMDII, told Design News. "One is based on using the augmented reality glasses to allow people to assemble complex assemblies and service them by scanning a part in or by just looking at the part."
Part of the instruction process involves the visual recognition of parts. "The system will recognize the part as part of the assembly, and it will show you where that part needs to go," said Howard. "For the service aspect of the project, the user looks at the part and the system offers ideas on how to remove it."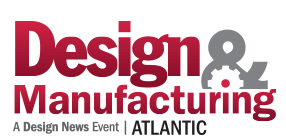 Monitor in Real Time. Learn how to leverage next-gen intelligent sensors for preventative maintenance and improved plant safety at Industry 4.0: Smart Manufacturing, part of Atlantic Design & Manufacturing Expo, June 16 in New York. Register here for the event, hosted by Design News' parent company UBM. Enter promo NY16DN for a FREE Expo pass & 20% off Industry 4.0 Conference.

AR for Creating Assembly and Service Instructions
The other project develops processes to actually produce the programs that guide users. "The second project involves creating the instructions you use in augmented reality," Howard told us. The process of developing the instructions will explore a number of questions. How do you take a paper drawing and turn them into augmented reality work instructions? What if you don't have any instructions at all? What if we're pulling knowledge out of someone who has done it for 15 years and needs to show how it's being done? "You need to know where they're inserting the parts. It creates the work instructions from the expert demonstration. This is a new method for creating instructions," said Howard.
READ MORE VR AND AR ARTICLES ON DESIGN NEWS:Can VR Ever Be More Than Just a Game?Autodesk and Microsoft Explore Holographic DesignAugmented Reality Is Finding Success in Enterprise
Embedding visual instructions in an individual's environment through projection, wearable elements, or handheld devices is intended to reduce training time and errors at multiple stages of the manufacturing process. AR also frees experts from time-consuming training sessions. "What comes out of it is the framework for the camera and how to create instructions and the framework for how to install it and calibrate it," said Howard. "It works with how you get from the work instructions to having the augmented reality instructions. Ideally, anyone could purchase that product and do what they're doing for their own applications."
DMDII is bringing together teams with expertise in a variety of manufacturing disciplines. They include large and small enterprises, government entities, and university researchers. Each project is managed by a lead organization that coordinates work among other organizations on the team. As an example, Iowa State University will spearhead a project that includes Purdue University, John Deere, Boeing, Daqri, and Design Mill. Bringing together a diverse group to create solutions is a standard part of UI LABS process.
Rob Spiegel has covered automation and control for 15 years, 12 of them for Design News. Other topics he has covered include supply chain technology, alternative energy, and cyber security. For 10 years he was owner and publisher of the food magazine Chile Pepper.
Sign up for the Design News Daily newsletter.
You May Also Like
---
DesignCon 2024

Jan 30 - Feb 1, 2024
Jan 30 - Feb 1, 2024
DesignCon is the premier high-speed communications and system design conference and exposition, offering industry-critical engineering education in the heart of electronics innovation — Silicon Valley.
Learn More