NASA is getting closer to a long-held dream: using robots to refuel and service GEO (geosynchronous earth orbit) satellites in space, plus enable deep space exploration. Benjamin Reed, who runs the program, told the overflowing audience all about the Restore-L mission and the technology that will make this happen in his keynote speech Thursday at UBM's Embedded Systems Conference.
"Satellites aren't breaking as much as they used to, but they're still running out of fuel," said Reed, deputy program manager for the agency's Satellite Servicing Capabilities Office (SSCO). About 1,000 continue to operate up there, but need fuel, repair, new parts, or upgrades of some kind.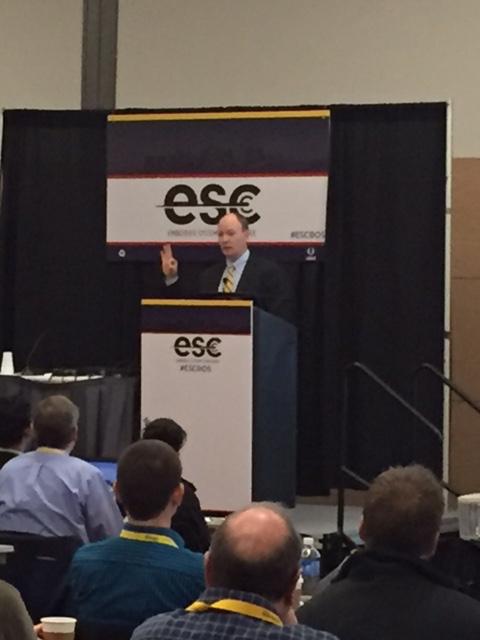 About 1,000 satellites still operating in geosynchronous earth orbit need fuel, repair, new parts, or upgrades. Benjamin Reed told engineers at UBM's Embedded Systems Conference about the technologies NASA's Restore-L robotic spacecraft is developing to help them out, and also aid deep space exploration.
(Source: Design News)
Another use for the kind of tools, technologies, and techniques being developed for the Restore-L robotic spacecraft is exploring the growing number of exoplanets we're discovering in other solar systems. Robotic spacecraft like Restore-L could potentially fly to an exoplanet and assemble a satellite nearby that can interrogate the atmosphere to see if there's life on the planet's surface.
Some of the technology, and much of the SSCO's drive, for Restore-L was developed when servicing and repairing the Hubble Space Telescope, said Reed. "Because of that experience, we said let's keep this going with robots." The spacecraft's technology demonstration mission will be a test case: rendezvous with the Landsat 7 satellite in low earth orbit, grasp it using a 7 DOF (degrees of freedom) robotic arm, refuel the satellite, and relocate it. According to the Restore-L website, the spacecraft will perform rendezvous and grasping autonomously, while refueling and relocation will be done via telerobotics.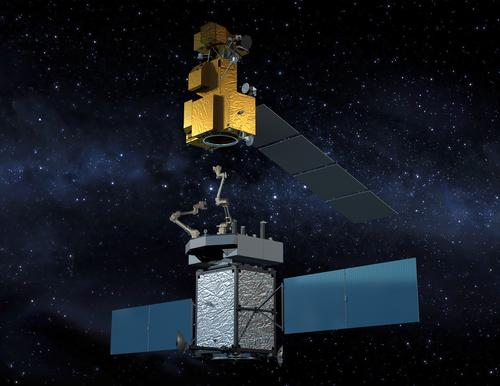 This artist's concept shows the Restore-L spacecraft during its 2019 technology demonstration: after its rendezvous with the Landsat 7 satellite (top) in low earth orbit, the spacecraft (bottom) will grasp the satellite using a 7 DOF (degrees of freedom) robotic arm, refuel it, and relocate it.
(Source: NASA)
The technologies deployed in Restore-L include 12 to 15 embedded systems, said Reed. They are being co-developed to make sure they all work together successfully, not only via system integration, but at a system-of-systems-integration level. The five groups of technologies are the relative navigation system, servicing avionics, the robot arm and software, the tool drive system and software, and the propellant transfer system. The main challenge for each of these is the ability to achieve its particular goal -- autonomous grasping by the robot arm, for example -- while interacting with "a non-cooperative satellite," since none of the satellites that need servicing or refueling were designed to ever be serviced or refueled.
READ MORE ARTICLES ON ROBOTS IN SPACE:
Once Restore-L completes its mission, scheduled for late 2019, NASA will be able to begin incorporating these servicing technologies into other missions, like science ventures and space exploration. Reed said NASA also plans to help jumpstart an emerging domestic servicing industry by transferring these technologies to commercial entities in the private sector.
A predecessor to this mission is the one we told you about in 2012. Then it was called the Notional Robotic Servicing Mission and NASA's focus was on developing a tele-operated servicing and refueling robot based on current surgical robot hardware and software. Related technology from DARPA we told you about back then was the proposed Phoenix program: robotic arms and end effectors that would collect and recycle space junk from obsolete, non-working communications satellites. The problem of orbital debris is one that Restore-L technologies might also help with.
Ann R. Thryft is senior technical editor, materials & assembly, for Design News. She's been writing about manufacturing- and electronics-related technologies for 28 years, covering manufacturing materials & processes, alternative energy, and robotics. In the past, she's also written about machine vision and all kinds of communications.