Keep in mind that the robot design entries were all aimed at helping DARPA to realize its dream of independent, autonomous, untethered robots that can rescue humans in post-disaster scenarios. The tasks set for them during the contest included driving a vehicle, walking while avoiding obstacles, climbing stairs, turning valves, and tripping circuit breakers.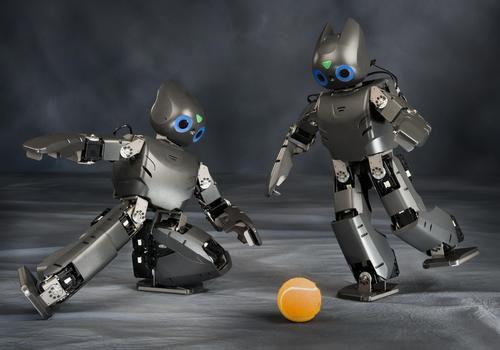 This is a task DARPA Robotics Challenge entries should be able to complete.
(Source: Virginia Tech)
As you can see in this video below, an awful lot of the entries fell down. Some of them fell down several times, and a few were even damaged during their falls. Many of them fell down even when there weren't any obstacles in sight. Sometimes, that was while taking the robot's first step. I mean, really, what happened to test first?
[Learn more about robotics trends &developments THIS WEEK at Pacific Design & Manufacturing, Feb. 9-11, at the Anaheim Convention Center.]
To be fair, as Design News reported some time ago, engineering an autonomous robot that can walk without falling down, humanoid or not, is no easy task. Many years of R&D in many different labs has gone into achieving this. But it's also true that some robots can already play soccer, like Virginia Tech's CHARLI (Cognitive Humanoid Autonomous Robot with Learning Intelligence) and Aldebaran Robotics's Nao. So why more of these entries couldn't perform their tasks better is a mystery to many.

(Source: IEEE Spectrum)
READ MORE ARTICLES ON ROBOTICS:
Ann R. Thryft is senior technical editor, materials & assembly, for Design News. She's been writing about manufacturing- and electronics-related technologies for 27 years, covering manufacturing materials & processes, alternative energy, and robotics. In the past, she's also written about machine vision and all kinds of communications.