Gadget Freak Case #276: See UFOs and Explosives With a DIY Polarimetric Camera
Gadget Freak Case #276: See UFOs and Explosives With a DIY Polarimetric Camera
Ever wanted to see light beyond what's detectable by the human eye? You can with DOLPi - a homemade Raspberry Pi-based polarization camera. You can even use it to detect unseen objects like landmines, IEDs, pollutants, and maybe even UFOs.
It's no secret that there are entire wavelengths of light invisible to the human eye. Animals and insects have eyes that can filter light and polarize it to all sorts of benefits like seeing in the dark and hunting prey. For a more in-depth definition you should consult your old college physics book, but the idea of polarized light is that it oscillates on a single plane, as opposed to scattered around like normal sunlight or lamp light.
You've probably seen cameras use polarization filters to enhance or remove certain colors in a shot. But this is really only the tip of the iceberg. Long story short, if a human could see in polarized light he or she would be able to detect all sorts of things normally invisible to the naked eye.
Enter the polarimetric camera.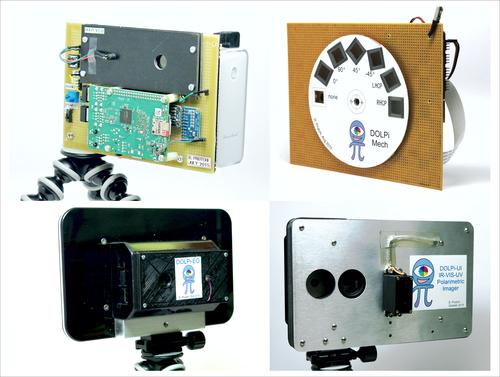 Design News reader David Prutchi has come up with a project - the DOLPi - an affordable, Raspberry Pi-based polarization camera that anyone can use to see polarized light. Aside from some interesting visuals you'll also gain the ability to detect unseen objects like pollutants and hidden explosive devices (if you're the sort of person concerned about that sort of thing...we don't judge).This project was a finalst in the 2015 Hack-A-Day competition.
Prutchi has included a whitepaper with highly detailed build instructions, a parts list, and Python source code to run the camera.
Watch the video below for an explanation of the DOLPi and to see it in action:
Download the full build instructions and parts list here
Want to submit your own project to Gadget Freak? Email us! Be sure to include "Gadget Freak" in the subject line.
As always, Gadget Freak is brought to you by Allied Electronics and Design News. You can recreate David Prutchi's gadget using the parts list below:
Sign up for the Design News Daily newsletter.
You May Also Like
---
DesignCon 2024

Jan 30 - Feb 1, 2024
Jan 30 - Feb 1, 2024
DesignCon is the premier high-speed communications and system design conference and exposition, offering industry-critical engineering education in the heart of electronics innovation — Silicon Valley.
Learn More