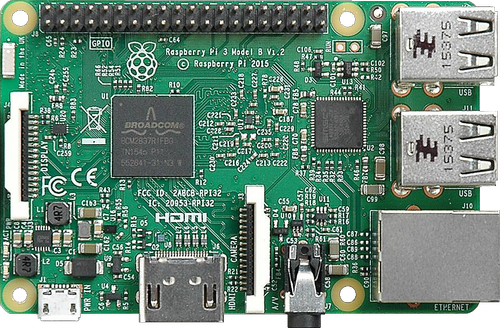 The Raspberry Pi 3 is the third generation Raspberry Pi. It replaced the Raspberry Pi 2 Model B in February 2016. (Image source: raspberrypi.org)
Less than four years ago, a tiny credit-card-size computer changed the world for students, gadget makers, industry, even space. The Raspberry Pi showed up in February 2012 with modest expectations and a low price of $25. This little computer from the United Kingdom soon became much more than its founder expected. That Cambridge professor and Raspberry Pi founder -- Eben Upton -- will be on hand to tell his story as a keynoter at the ARM TechCon conference in Santa Clara, Calif., Oct. 25 – 27. Upton will be speaking on Wednesday, Oct. 26.
Upton didn't start out with ambitious dreams for his tiny computer. He just wanted to put something inexpensive -- yet useful -- in the hands of students. "We were expecting to sell maybe 10,000 units lifetime, and that was in our wildest dreams," Upton told Design News. "Really the goal was to get them into the hands of individual schoolchildren who would then become interested in computing and apply to study computer science at Cambridge. Our ambitions really were that parochial."
A Worldwide Explosion of Interest
Raspberry Pi caught on quickly -- then explored. Now in its fourth iteration in this short history, the modest board has sold more than 10 million units. For the Raspberry Pi Foundation, those resources have supported a deeper dive in the hardware and software. "The unexpected interest in Raspberry Pi, both in terms of sheer numbers and in terms of industrial use, provided us with the financial resources to develop the hardware platform -- first the Model B+, and then Raspberry Pi 2 and 3 -- while also helping us develop the software environment," said Upton. "We spend a lot of resources on keeping both the kernel and userland software near head of tree." The foundation now employs around 50 people developing educational resources, running teacher training, and organizing events.
---

Raspberry Pi in Space. The Raspberry Pi Foundation's $35 ARM-based PC has sold 10 million units in a little over four years. In his keynote, founder Eben Upton will discuss lessons learned and future plans for the device, which includes a trip into space. Only at ARM TechCon, Oct. 25-27, 2016 in Santa Clara, Calif. Register here for the event, hosted by Design News' parent company, UBM.
---
Raspberry Pi has spread far beyond its original aim as a tool for students. These days there are few places that are not making some use of the small platform. "The use of Raspberry Pi in industrial contexts in general -- such as factory automation -- has been surprising," said Upton. "On the hobbyist side, we've seen everything from people putting them under weather balloons and sending them to the edge of space to people building art installations."
READ MORE ABOUT RASPBERRY PI ON DESIGN NEWS:
In 2015, Raspberry Pi hit a new high, straight out of the atmosphere and into space. "We never imagined that we'd get to send two units to the International Space Station, but we did when UK ESA astronaut Tim Peake took it into space last year," said Upton. "We are successfully generating excitement and enthusiasm around computing for the first time in a long while, and we've been able to do this not just in the UK but around the world."
Rob Spiegel has covered automation and control for 15 years, 12 of them for Design News. Other topics he has covered include supply chain technology, alternative energy, and cyber security. For 10 years he was owner and publisher of the food magazine Chile Pepper.