Even with all its ultra-sophisticated design software, Siemens PLM has launched a simple -- nearly back to-paper -- drawing app. At the PLM World users conference in Orlando this week, Siemens introduced Catchbook, a sketching program that it calls a "consumer app" because of its simplicity. That's a bit of a misnomer, though, since Catchbook drawings can be transferred to CAD to begin a formal design process.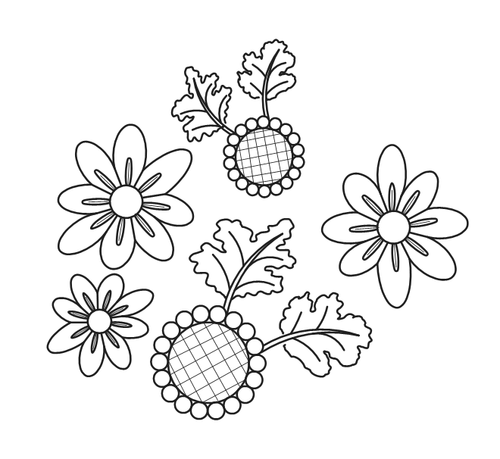 Catchbook can be used for freestyle drawing.
Catchbook can be used for drawing and tracing on tablets and smartphones. The app provides a simple and intuitive user interface that allows the user to use a finger or stylus for drawing. The goal was to create an electronic drawing surface to replace the proverbial napkin for capturing initial ideas.
Siemens executives who were on hand to introduce Catchook said the product was intended to be lighter than traditional professional design tools. "Catchbook fills a gap between artistic or inking apps and professional design solutions. For the most part we expect Catchbook to be compared to artistic and inking apps," Ken Hosch, director of innovation research and strategy at Siemens PLM, told Design News. "It lives between artistic apps and professional apps."
An important part of the concept of Catchbook was to make sure it felt like using a pen on a napkin -- the classic image of the sketched design of a product in its very earliest iteration. "We wanted to keep the pen-and-paper feel. That was the goal," said Hosch.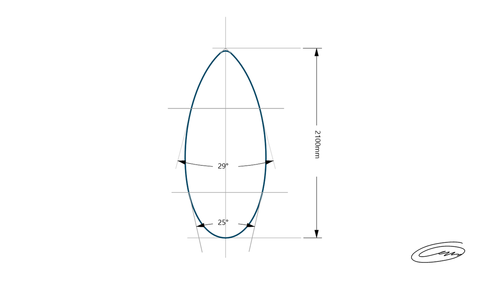 This drawing of a surfboard was the first step in the design of an actual commercial surfboard.
Catchbook enters the market at the user-friendly price of $3.99 per year for the drawing app, which includes curve recognition and editing; $2.99 per year for the publishing app, which includes the ability to manage drawings and create PDFs; and $5.99 per year for both. It's available on Android, Apple, or Windows.
One of Catchbook's features is its autocorrect function that turns sketches into symmetrical drawings, makes circles and curves perfect, and places objects evenly within the drawing's boarders. "Drawing recognition will recognize a circle or oval and complete it as symmetrical," said Hosch. "Likewise with curves and straight lines."
Widen your social circle and learn more about CAD and other design tech at Atlantic Design & Manufacturing June 14-16, in New York.
While Catchbook is easy to use, it hides a sophisticated backbone. The tool was built on the Siemens PLM industrial sketching technology. The recognition aspect of the tool offers impressive drawing support. "If you make mistakes while you have recognition on, it will correct your errors," said Hosch. "Say it's a square where one side is too short or the lines don't meet, it will correct your inconsistencies."
Catchbook also makes it easy to tidy up rough drawings. "If you have a line that goes too far, you can scribble on it, and it will erase the extraneous line," said Hosch. "If you create a square and draw holes within each corner, it will make the holes symmetrical in location and size. Then you can take two holes and connect them with lines to create a slot."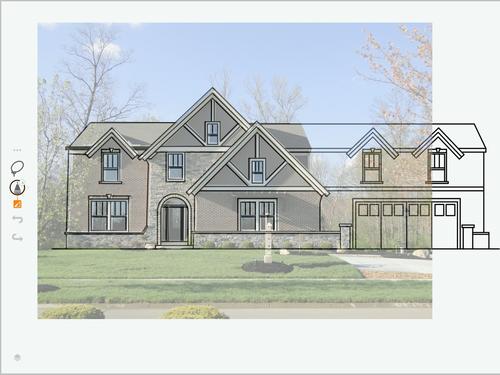 This home addition design began as a Catchbook sketch.
Catchbook also performs collaboration duties. Plus, you can share content on the Catchbook site. There are tutorials on the site to help users learn the full capabilities of the tool. Siemens intends to support Catchbook with updates and additional features going forward.
[images via Siemens PLM]
Rob Spiegel has covered automation and control for 15 years, 12 of them for Design News. Other topics he has covered include supply chain technology, alternative energy, and cyber security. For 10 years he was owner and publisher of the food magazine Chile Pepper.