Advanced tools for design visualization, illustration, and animation are helping design engineers create realistic representations of their products. Continually enhanced tools allow users to quickly create photorealistic CAD renderings and animations that can convey ideas and explain designs to manufacturers or customers prior to a physical prototype. These visualized renderings can also become the blueprint for 3D prototypes.
The full rounded view of the product -- or perhaps a full-blown factory -- ends the blind group's dilemma with the elephant. One touches the leg and says the elephant is a tree; another touches the tail and says it's a rope, and so forth. Visualization lets everybody see everything.
With a car, the technical engineers can see everything under the hood, while the marketing folks can see the styling, and the electronics supplier can see how the players fit into the console. All in one multifaceted rendering.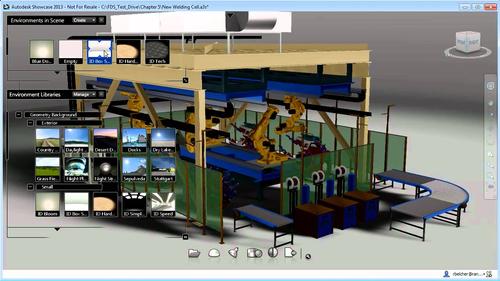 Here's a screen shot of a fully visualized team of robots on a conveyor line. The visual insets drill down to individual components on the line.
(Source: Autodesk)
So, the same representation can go into minute detail for those who need to see deep into the product -- or deep into a factory line. Yet the same rendering can be simplified for a supplier who only needs to see the relevant portion of the product, or for the marketing team that needs to see a realistic view of the car but doesn't need to see the inner workings of a gear box.
Likewise with a factory. The entire factory can be designed while the hanger is still empty. Siemens PLM went so far as to create a 3D video-rich replica of a Michigan Ford plant, partnering with Google Earth so viewers can see the whole factory or drill down to individual workstations. A Ford plant in Brazil can study the rendition of the Michigan plant to grab best practices at the workstation level.
MORE FROM DESIGN NEWS: CAD Systems Keep Up with Increasingly Changing Design Workflows
Ford Motor Company deployed software from Siemens PLM to create virtual navigation inside its assembly plants. The goal was to improve global collaboration and better share best practices across multiple plants. Ford's IntoSite is an application in Siemens Tecnomatix. It's a cloud-based web application that was developed using the Google Earth infrastructure. IntoSite presents a 3D version of assembly plants and allows users to navigate virtually through the plants, down to the workstations.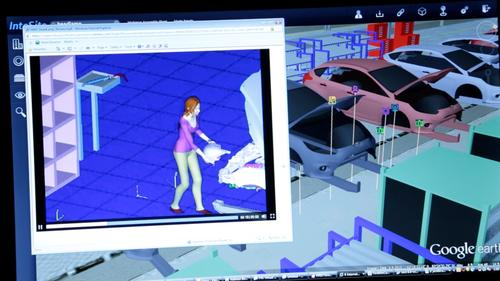 The Siemens visualization of a Ford plant allows views to see both the entire assembly line as well as individual workstations. Once at the workstation level, the viewer can click to see a video of the workstation tasks.
(Source: Siemens)
The IntoSite program was launched using Ford's Michigan Assembly Plant in Wayne, Mich. as an example of an efficient operation. The aim is to standardize on the efficiency of the Wayne plant and let other plant managers at Ford study IntoSite so they can replicate the Wayne plant's efficiency. "We can drill down in the facility and see all of the components. You can see the configuration," Al Hufstetler, VP of Tecnomatix manufacturing engineering at Siemens PLM, told Design News. "I can put up videos on IntoSite, so we don't need a week of training. You just go to the link and see what's available to see. You can see how the Brazilian plant does it as compared to your plant."
Hufstetler notes that IntoSite includes storage and access to documents that pertain to specific issues in a common place, with no need to access multiple internal systems. It also streamlines the process for sharing large media files, which often require access to a third-party file sharing program or the use of global shared drives with file size and storage duration limits. "When we penetrate the walls of the plant, we see simple representation," he told us. "All you have to do is click on the asset, and it might have videos attached to it. Or you can go onto Google and see plants in real time through webcams."