In the past, design engineers used a number of tools to create products: CAD, simulation, structural analysis, materials selection, and costing, to name a few. The data from the CAD drawing was translated to one of these analysis programs and then translated back into CAD, often resulting in some loss of accuracy. The back-and-forth was also time-consuming.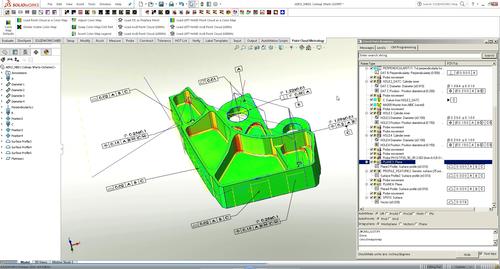 Here's a CAD design going through the inspection process for validation.
(Source: SolidWorks)
When the process was finished, the data was typically stored in a 2D CAD file as drawings. That was fine for a commercial operation that made products with short lifecycles. Yet those who counted lifecycle in decades -– such as the US military -– were concerned that a 20-year-old CAD file might not be readable as the world migrates out of 2D and into 3D CAD.
Now that design is moving away from 2D drawings to 3D CAD, CAD developers have created CAD programs that also have integrated tools for simulation, materials and structural analysis, and costing, among other engineering aids. They are also working with the government to create rich 3D CAD files that can be stored in 3D PDFs, freeing design engineers from creating and archiving 2D drawings.
Integrating Programs into CAD
Perhaps the biggest shift in CAD development in recent years has been the addition of features that go beyond drawing. "You can always improve on the geometry," Paul Brown, senior marketing director for NX product engineering at Siemens PLM, told Design News. "Yet if you look at product development in CAD, it's not just about geometry. It's also about the product's requirements –- tracking those requirements and controlling them."
[Learn more CAD trends and developments at Pacific Design & Manufacturing, Feb. 9-11, at the Anaheim Convention Center.]
CAD platforms are incorporating non-design features so design engineers don't have to leave CAD to do structural analysis or to spec materials. In the past, the design would have to be put through these tools outside the CAD program and then returned to the program. "Now there is a lot more emphasis on tracking and validating the product, so you can show how the product is meeting its requirements," Brown said. "We continue to invest a lot of time and effort into bringing that into CAD."
One of the advantages of staying within the CAD environment when exploring engineering and non-graphical aspects of the product is that the object doesn't have to be redesigned when changes are made. "A single requirement at the top end makes all kinds of changes. How do you monitor that change?" Brown said. "You're seeing a lot more focus on that" from CAD developers, he said.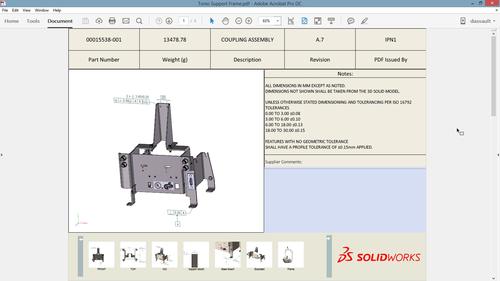 Here's an example of a CAD file turned into a 3D PDF.
(Source: SolidWorks)
"The integrated analysis tools have been niche tools. What's happening now is the big players like Siemens PLM and some of our competitors have been expanding the CAD solution to give users more capability without having to go outside CAD," Brown added.
Bringing the analysis tools into CAD saves both time and accuracy. "Every time you translate data, it costs you money, and you have to worry about the accuracy of the translation. Plus it costs you time," he said. "If you can use the same common core data, you save accuracy and time."
Simulation is another product development tool that used to live outside the CAD program. Siemens PLM recently acquired the simulation company LMS specifically to integrate product simulation into its program. "This was part of the whole drive for integrated solutions for the simulation of product behavior," Brown said.
Moving Beyond 2D Drawings
The integration of simulation into CAD trims product development time. SolidWorks acquired a simulation tool specifically to add this functionality. "The newest big thing that SolidWorks has been adding to CAD is the move toward integrated design with functional requirements," Craig Therrien, senior product portfolio manager at SolidWorks, told Design News. "We've used the acquisition of Cosmos to integrate simulation into SolidWorks. What we're doing is expanding SolidWorks outside of CAD."
[Visit SolidWorks at Booth 3401 at Pacific Design & Manufacturing, Feb. 9-11, at the Anaheim Convention Center.]
In another move to make design a more efficient process, SolidWorks is helping design engineers move beyond the need for 2D drawings. "Last year we added MBD (model-based definition) to SolidWorks. Sometimes it's called model-based enterprise (MBE)," Therrien said. "It's been around for a long time in concept as drawingless manufacturing. You don't have to make the 2D drawing representation. You can go directly into the 3D model."
The ability to go straight to the 3D model was a function of saving a considerable amount of time. "People are looking for a faster way to get to manufacturing. They're looking at avoiding the 2D model," Therrien said. "They have to get the product to market as soon as possible. So they don't create the 2D drawing. That's common in automotive, aerospace, or for anyone who wants to speed up their process."
Preserving and Archiving the 3D Model
The advantage of 2D drawings is they can be stored for the long term, since they don't depend on ever-changing software. The military needs to store drawings over decades. That poses a problem if you eliminate 2D, however. "What happens years from now when you want to open the file? If you store it in a CAD model, maybe 20 years from now you might not be able to open that CAD file," said Therrien. "It might not be an available [file format] with the software you're now using."
The solution was to create a 3D PDF, since Adobe can read any PDF regardless of advances in software. "With the advent of the 3D PDF, people feel comfortable that it is as good as paper. People will be able to open it 20 or 30 years down the road," Therrien said. "Manufacturers have developed the new standard, MIL-STD-31000A, a definition for providing CAD data in a way that is consumable. It's a model-based approach to define the characteristics of the design PMI (product manufacturing information)."
New Data in the CAD Drawing
As once-external tools are added to the CAD program, design models effectively become intelligent. It knows from its dimensions, tolerances, and constraints what changes can and cannot be made. "You can create machine parts in 3D that are intelligent, with dimensions that know things about their environment. If you say this is the flatness tolerance, it knows you can't go to a cylinder," Therrien said. "We wanted more intelligence in the 3D model. We wanted something that would say, 'Hey you're putting the right tolerances and dimension on the model.' It will tell you if the object is fully constrained."
One of the major advantages of integrating analysis tools and simulation into CAD is that there is one instance of the drawing that is consistent through the entire design process. "The idea is that there's one database, one true source of information, and that's the CAD model," Therrien said. "It contains all the information downstream, all of the tolerances and dimensions. That's what the government wants. In a way, that's the original dream of STEP (the standard for the exchange of product model data). There's all this rich 3D data in CAD now."
Rob Spiegel has covered automation and control for 15 years, 12 of them for Design News. Other topics he has covered include supply chain technology, alternative energy, and cyber security. For 10 years he was owner and publisher of the food magazine Chile Pepper.
Like reading Design News? Then have our content delivered to your inbox every day by registering with DesignNews.com and signing up for Design News Daily plus our other e-newsletters. Register here!