3D printing is not just for prototyping anymore. That's the news we're getting from readers according to our latest Quick Poll, in which nearly 50% of those who responded said they are already using this fabrication process for end products and not just prototypes, or have plans to do so.
Of the 204 who responded to the survey, more than 37% said they are already using 3D printing for end products, with more than 11% with plans in the works to create end products with this process.
While no one expects 3D printing to replace traditional manufacturing processes anytime soon, it is having some early inroads to end products for use in the medical, aerospace, and automobile industries.
Still, opinions on using additive manufacturing for end products continue to be mixed, and not every manufacturer is convinced that 3D printing is the way forward. More than a quarter of respondents said they are still taking a look at the process before deciding to use it, while another quarter claim they have no interest at all.
Nearly 26% of those who responded said they're still evaluating 3D printing before deciding whether it fits their business needs, while more than 25% said there is "no way" they would use the process for end products.
There is still time to tell us what you think about using 3D printing and additive manufacturing for end-products, not prototypes. Sound off in the comments section below.
Elizabeth Montalbano is a freelance writer who has written about technology and culture for more than 15 years. She has lived and worked as a professional journalist in Phoenix, San Francisco, and New York City. In her free time she enjoys surfing, traveling, music, yoga, and cooking. She currently resides in a village on the southwest coast of Portugal.
Like reading Design News? Then have our content delivered to your inbox every day by registering with DesignNews.com and signing up for Design News Daily plus our other e-newsletters. Register here!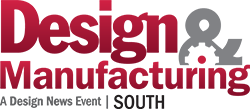 Design News will be in Orlando in November! Design & Manufacturing South will be in Orlando Nov. 18-19. Get up close with the latest design and manufacturing technologies, meet qualified suppliers for your applications, and expand your network. Learn from experts at educational conferences and specialty events. Register today for our premier industry showcase in Orlando.