New Nanomaterial, MXene, Is the Best-Ever Protection Against Electromagnetic Inference
New Nanomaterial, MXene, Is the Best-Ever Protection Against Electromagnetic Inference
MXene, a light, incredibly thin coating made of a nanomaterial discovered by researchers at Drexel University, works better than copper and aluminum in protecting electronic parts and devices from electromagnetic interference .
A nanomaterial coating made of a material called MXenediscovered by researchers at Drexel University in 2011 has now been tested in multiple applications. The results? It works better than copper and aluminum in protecting electronic parts and devices from electromagnetic interference (EMI).
As electronics and electrical circuits have become more and more common in many different systems and devices, the amount of electromagnetic radiation from cell phones, tablets, and even TV and internet cables is so prevalent that electromagnetic pollution is a growing problem. Researchers from Drexel University's department of Materials Science and Engineering, along with a team from the Korea Institute of Science & Technology, have learned that a thin coating of MXene can be more effective than copper or aluminum in EMI shielding.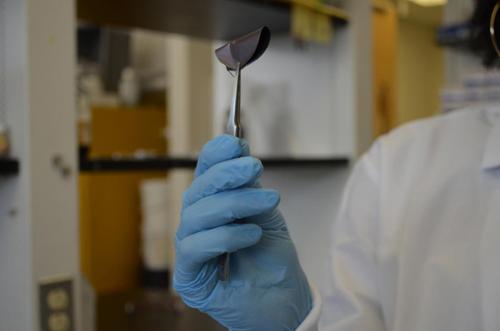 MXene is a nanomaterial that is extremely thin and light, and can block and absorb electromagnetic radiation better than copper or aluminum, making it an excellent coating for shielding in electronics devices.
(Source: Drexel University)
MXenes are two-dimensional metal carbides and nitrides that combine metallic conductivity and hydrophilic surfaces, according to an article in Science that describes the results of the team's tests. After testing films made of the previously discovered MXene of multiple thicknesses from a couple of microns up to 45 microns, the team found that films made of this titanium carbide MXene are more effective at blocking EMI than conventional shielding methods using copper or aluminum shrouds and cages, or than metallic ink coatings.
A material's EMI shielding effectiveness usually increases with thickness, and the thinnest MXene film's shielding effectiveness was about equal to that of copper and aluminum foils. When they increased thickness to 8 microns, the film achieve 99.9999% blockage of radiation frequencies covering the spectrum from radar to cell phones. A 45-micron-thick coating made of this MXene provided a shielding effectiveness of 92 decibels, which the researchers say is the highest among synthetic materials with similar thickness.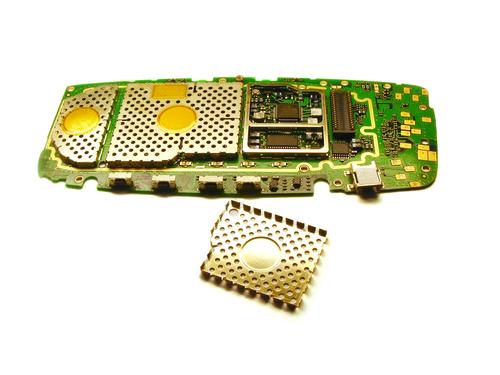 Current electromagnetic shielding materials add lots of weight and volume to mobile devices, which could be eliminated by using a thin coating of MXene to protect individual components.
(Source: Drexel University)
For use as coatings the extreme thinness of these materials is highly desirable. To rival the performance of the 45-micron MXene coating, carbon-polymer composites currently used to meet commercial shielding requirements would have to be over 1 mm thick, which would be far too much weight and thickness for a 7mm-thick iPhone.
The coatings' good flexibility and high conductivity are also desirable, since they can shield surfaces of any shape. Since much EMI is generated by individual components inside small electronics devices, the material can also shield very small parts. The coating can be applied by spraying it onto any surface. Its shielding effectiveness is not reduced by combining it with a polymer to make a composite coating, making it useful for protecting wearable devices.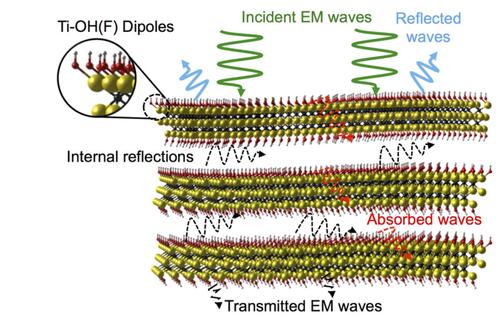 MXene wards off electromagnetic interference by absorbing and trapping waves between its layers.
(Source: Drexel University)
MXene works by both reflecting and absorbing electromagnetic waves. Some are immediately reflected from the coating's surface. Others pass through but lose energy in the material's atomically thin layers. Lower-energy electromagnetic waves continue to reflect off of the internal layers until becoming completely absorbed in the structure.
The researchers say their next steps will be to find support for a broader study on other MXenes, select the best shielding material from among them, and test it in various devices. The current test results were part of a fundamental study of MXene properties funded by the National Science Foundation.

READ MORE ARTICLES ON ADHESIVES & COATINGS
Sign up for the Design News Daily newsletter.
You May Also Like
---
DesignCon 2024

Jan 30 - Feb 1, 2024
Jan 30 - Feb 1, 2024
DesignCon is the premier high-speed communications and system design conference and exposition, offering industry-critical engineering education in the heart of electronics innovation — Silicon Valley.
Learn More