Now that more or less every automaker has committed to creating some form of self-driving car, companies are already looking for the next trend that will help distinguish themselves from their future competition. Based on the news from CES 2016, while manufacturers will always be looking to enhance vehicle performance and design, the next buzzword for autos will be connectivity. Automakers want your vehicle to be just as big a component of the Internet of Things (IoT) as your computer, phone, and even your house. If many of these concepts come to fruition, the interior of your car will someday look less and less like a traditional dashboard and more like a giant smartphone.
CES 2016 saw a lot of manufacturers introducing concepts for connected vehicles that interface with the Internet, your home systems, and even each other not only for autonomous driving but also for a variety of other tasks ranging from messaging and remote systems control to even drone delivery.
Click the image below to see some of the most talked about automotive concepts from CES 2016.
Do you think the trend of connected cars will catch on? Share your thoughts in the comments!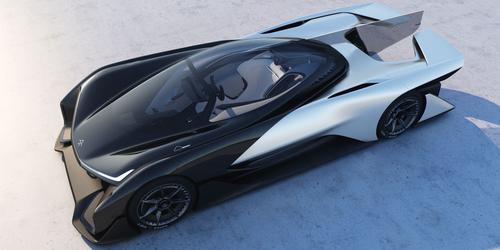 One of the most buzzed about concepts at CES 2016 was the FFZERO1 created by a new, California-based company, Faraday Future (FF), that boasts former executives from Telsa Motors among its leadership. The FFZERO1 concept (aka the 'Telsa Killer') is a high-performance electric vehicle with a projected top speed exceeding 200 MPH, acceleration of 0-60 in less than three seconds, and four quad core motors with over 1,000 horsepower. Key to the concept vehicle's design is FF's Variable Platform Architecture (VPA), which allows different vehicles designs -- including powertrain, motor, and drivetrain options -- to be built from the same platform. The VPA even includes considerations for designing autonomous vehicles.
The concept also directly integrates the driver's smartphone into the steering column for connectivity. "Conceptually, this setup could enable the smartphone to serve as the interface between the vehicle and the driver in – and outside – of the car," a company press statement said.
(Source: Faraday Future)
Chris Wiltz is the managing editor of Design News.
Like reading Design News? Then have our content delivered to your inbox every day by registering with DesignNews.com and signing up for Design News Daily plus our other e-newsletters. Register here!

Design engineers and professionals, the West Coast's most important design, innovation, and manufacturing event, Pacific Design & Manufacturing, is taking place in Anaheim, Feb. 9-11, 2016. A Design News event, Pacific Design & Manufacturing is your chance to meet qualified suppliers, get hands-on access to the latest technologies, be informed from a world-class conference program, and expand your network. (You might even meet a Design News editor.) Learn more about Pacific Design & Manufacturing here.