Of all the forms of worry -- career, project, or personal -- surely the most vexing must be the range anxiety suffered by drivers of electric cars. With nary a charging station in view of most domestic roadways, we wondered whether members of our Systems & Product Design Engineering group on LinkedIn were similarly concerned or whether they're ready to embrace vehicles like the Chevy Volt and Nissan Leaf.
Bruce Hewes, a software controls engineer, is blunt: "Nope, I prefer the horsepower of a gas engine."
Contributing technical editor Jon Titus is also demurring, but for a more environmentally friendly reason. "Definitely no," he says. "We forget to take into account the energy used to produce the electricity that recharges batteries. Electric vehicles look clean, but they simply move the energy source out to an electric power plant in someone else's backyard. Also, if we look at the entire thermodynamic equation, from the materials used in batteries to the end devices, an electric vehicle just doesn't make sense in terms of overall energy use."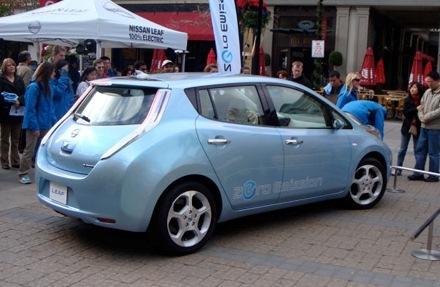 The all-electric Nissan Leaf.
However, other group denizens are ready to take the plunge. "I would go with Nissan Leaf," says Ohio-based sales engineer Tom Medsker. "The range, price, and design are all good. There are fewer moving parts because there is no gasoline engine. I believe that if I make the 'all electric' commitment, some smart entrepreneur will put a recharging station at a place where they want me to go, like a shopping mall or hotel."
Engineer William Ketel II says he would probably opt for the Volt, with one big caveat: "I am not really ready to do it until I figure out the replacement cost for the battery pack."