"It has a lot of the subtle and bold visual cues -- L-shaped taillights, headlights -- that we want to put into a lot of our designs going forward," Maurice Durand of Lexus said. "And it's all cued off of that spindle grille."
Indeed, the spindle grille is the car's most notable feature, aside from the lack of a roof. But the car is also noticeable for its steeply angled A-pillar, small vents in the side sills, fin-like rear diffusers, chrome-covered exhaust tips, and the coolest chrome wheels of any concept car around.
Inside (we use that term loosely, since there is no roof), the LF-C2 features two large electronic displays. One is an enhanced navigation display and the other offers a better view of vehicle functions. The vehicle also contains a small touchpad interface at the front console. "You run your finger along it like a mouse, and it drives all the options on your screen," Durand said.
The rear seats are also unique. Fairings run from the trunk deck forward, to a panel that flows between seats and continues forward to the center console.
Lexus says it's serious about bringing some form of the concept to production, but it's not saying when that might happen.
Thumbs-up or thumbs-down? Take a look at the slideshow and tell us what you think.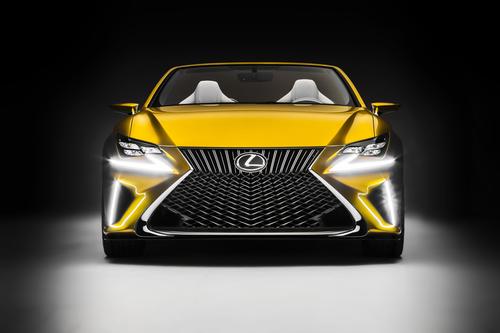 The defining characteristic of Lexus' LF-C2 concept car is the front fascia, which features a bi-texture grille with a braided L-shaped mesh beneath its vertical slats.
(Source: Lexus)
Related posts:
{doclink 268362}
{doclink 268127}
{doclink 267926}
{doclink 267878}
{doclink 267833}
{doclink 267339}
{doclink 267317}
{doclink 266142}
{doclink 266450}
{doclink 266188}
{doclink 266061}
{doclink 265790}
{doclink 265529}
{doclink 265157}
{doclink 264712}
{doclink 263072}
{doclink 261927}
{doclink 261782}
{doclink 261236}
{doclink 260529}
{doclink 259550}
{doclink 258495}
{doclink 258113}
{doclink 257628}
{doclink 256966}
{doclink 255754}
{doclink 255564}
{doclink 255380}
{doclink 255191}
{doclink 255091}
{doclink 254150}
{doclink 252881}
{doclink 251534}
{doclink 251483}
{doclink 250517}
{doclink 250256}
{doclink 249928}
{doclink 249519}
{doclink 248442}
{doclink 246722}
{doclink 246644}
{doclink 245676}
{doclink 245442}
{doclink 244906}
{doclink 244832}
{doclink 244669}
{doclink 242498}
{doclink 242424}
{doclink 242108}
{doclink 241552}
{doclink 241175}
{doclink 240962}
{doclink 240363}
{doclink 240303}
{doclink 239766}
{doclink 238863}
{doclink 237768}
{doclink 237698}
{doclink 237534}
{doclink 237329}
{doclink 237015}
{doclink 236557}
{doclink 235252}
{doclink 235241}
{doclink 235140}
{doclink 234687}
{doclink 234367}
{doclink 234251}
{doclink 233282}
{doclink 233004}
{doclink 229120}
{doclink 228520}