Audi AG took a big step forward in autonomous driving technology this week, announcing that it will go to production with a "piloted" driving controller about the size of a tablet computer.
The controller, designed to handle inputs from cameras, radar, Lidar, ultrasound, GPS, accelerometers, gyroscopes, and multiple other sensors, can reportedly be concealed in the sidewall of a car. Audi says the new technology represents a departure from past systems, which typically required a trunk load of electronics. "We've boiled it down to roughly the size of an iPad," Audi spokesman Bradley Stertz told Design News. "It makes autonomous driving much more practical because you're not eating up the whole trunk just to get the car to do it function."
MORE FROM DESIGN NEWS:  Automakers Aim to Simplify Electrical Architectures
Known as zFAS (a German language acronym for "central driver assistant controller"), the new technology will first serve in such applications as lanekeeping, adaptive cruise control, blindspot detection, and traffic jam assistance, ultimately laying a foundation for autonomous vehicle operation. It reportedly derives its capabilities largely from the use of a Tegra K1 processor chip from nVidia Corp. The chip includes a quad-core CPU with 192 graphics cores. "It's basically a supercomputer on a chip," Stertz said. "The processing power that we get from that chip is equivalent to what used to be a whole trunkful of equipment."
Click the image below to see more of Audi's zFAS technology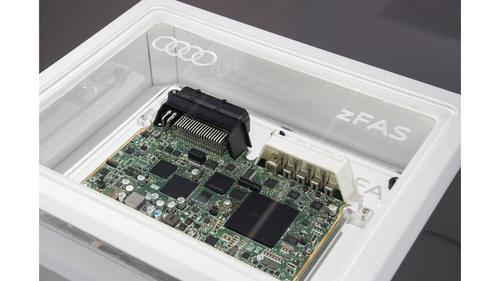 Audi's zFAS module will reportedly be able to replace a trunk load of autonomous driving electronics. (Source: Audi AG)
zFAS will also employ an EyeQ3 signal processor from Mobileye N.V. to handle camera data, as well as time-triggered networking technology from Austria-based TTTech Computertechnik AG. Delphi Automotive will reportedly handle production of the zFAS modules.
Audi said that zFAS is the first piloted driving module to use a central domain architecture. Up to now, automakers have employed spatially-separated controllers. The central domain could be significant, not just for autonomous cars, but for the auto industry at large, which has long been trying to find new architectures to relieve the complexity caused by scores of on-board microcontrollers. So-called "domain control," in which vehicle electronics are divided into domains run by powerful processors, has been in development by suppliers for at least a decade.
MORE FROM DESIGN NEWS: Detroit Paves Road to Autonomous Driving
The luxury automaker said the new technology will also enable piloted cars to learn continuously while they drive. Data from zFAS will be transferred via cell phone to the cloud, which will process algorithms for machine learning and artificial intelligence before sending it back to the car. In this way, vehicles will ultimately learn to master complex driving situations.
At the Consumer Electronics Show in January, Audi showed off an A7 Quattro which had autonomously driven 560 miles from the Silicon Valley to Las Vegas. The vehicle did not use the zFAS technology, however.
Stertz said that Audi will begin using zFAS for "traffic jam assist" in the new 2017 Q7 model, which will come out in early 2016, and for "traffic jam pilot" technology in the A8 sedan a few years from now.
Senior technical editor Chuck Murray has been writing about technology for 31 years. He joined Design News in 1987, and has covered electronics, automation, fluid power, and autos.