Offshoring has been with us for a long time. From manufacturing, to customer service, to technical support, roles in a variety of functions are often sent to offshore locations. Not surprisingly, product development activities have been offshored to sites in Asia and Eastern Europe.
Yet while the offshoring of product development is still significant, a small but growing reverse movement is happening, as product development activities are being redirected to domestic locations. There are four key drivers for this trend:
1. Security Concerns Around Intellectual Property
Issues related to protecting intellectual property and know-how used in product development have been legendary -- particularly in mainland China engagements. There have been many instances where controls are not in place (or even respected) at the corporate level related to protecting clients' confidential information and plans. In some cases, corporations have been able to forge relationships where intellectual property is protected at a high level. However, another important potential security risk still lies outside the control of both the client and the Asian partner's corporation: the individuals who are privy to confidential information.
While staff turnover certainly exists in the US and European markets, individuals moving from company to company are legally bound to protect the intellectual property of their prior employers, these legal protections, even in the rare instances when they are in place, are not common or routinely respected in offshore workforces. Employees frequently leave and go to work at direct competitors' enterprises, bringing with them valuable trade secrets and intellectual property.
Worse, the turnover of staff in many offshore economies is very high. This creates an open-door channel for trade secrets to leave client control. In such economies, a key driver is a strong focus on wages -- with lower loyalty toward the corporate entity. Simply stated, engineers will frequently change companies if there is any way to achieve even a minor increase in direct compensation. While there is turnover in the US economy related to compensation, it is rarely the sole rationale for taking a new position; often, other factors serve to offset minor salary discrepancies.
2. Support for Out-of-the-Box Creative Processes
One of the strengths of a strong domestic product development process is the ease of engaging in highly creative and open development processes. As a cultural norm in innovative US companies, there is a high respect for unusual thought processes, open creative expression, and mutual respect and encouragement in the flow of ideas -- even across age and hierarchical boundaries. The ability for product development team members to think outside the box and to express and respect radical ideas from all levels of an organization, without regard to position, is a powerful factor in freeing the flow of creative ideas.
Scott Adams, author of the Dilbert cartoon series, once expressed this phenomenon in the Wall Street Journal article, "The Perfect Stimulus" on November 6, 2010: "You see this same dynamic with countries. The United States is a nation founded by people who couldn't stand the leaders of their old homelands. I'm no geneticist, but I suspect that the 'Screw it, I'm out of here.' attitude can get passed on. We're probably the most disgruntled, self-loathing, hard-to-satisfy people on Earth. It's no wonder our GDP is awesome."
Many a true word is said in jest, but the takeaway here is that there is tremendous creative power in restlessness that is deeply rooted in cultural norms.
READ MORE ARTICLES ON PRODUCT DEVELOPMENT FROM MITCH MAIMAN:
3. Engagement in Agile Development Processes
The most successful engagements in offshore development are those where product requirements and technology are clearly and completely defined. Put another way, products requiring commonplace technology and know-how, and which can be readily defined without the need for change, are good candidates for offshore development.
But what about products where the path to execution is unclear? What if a fast-paced, iterative process is needed? Anyone who has ever tried to manage an offshore development project requiring research or responsive changes to rapidly evolving market situations can attest to the difficulties encountered. It is almost impossible to effectively manage activities or anticipate results in these cases.
It is particularly difficult to execute on projects that require engagement in an agile development process. Quick weekly or daily scrubs with an offshore development partner, in which real-time progress is assessed and scope is adjusted, are a challenge working with cultures that are laser-focused on tight requirements for success and pure execution.
4. Growing Support for Onshore Manufacturing
It is increasingly not uncommon for manufacturers to shift production or final assembly from offshore to domestic factories for particular products. There are obvious efficiencies in having engineering support available close to the manufacturing lines. Such proximity improves responsiveness, by being able to rapidly support manufacturing processes and resolve issues.
In addition, a number of companies are consciously shifting all production back to the US. Examples of manufacturing categories moving back to onshore sites include those that involve very low labor contribution, low production volume, physically large or heavy products, and high product mix variability. GE, for example, recently shifted manufacture of heavy appliances back to US-based operations. Similarly, car manufacturers are also building more and more cars domestically for the US market.
In addition, most integrated offshore design and manufacturing resources (ODMs) are unlikely to be interested in performing product design work for products which will not be run through their factories. In fact, many ODMs use their design resources as a necessary lead to lock in the product manufacture contracts. It is even possible that such firms will absorb the product development expenses as an enticement to land the product manufacturing. Be aware, in such engagements, that the client's ability to secure competitive bidding for product manufacturing or to shift suppliers will be limited when the client does not have full control of the manufacturing database, fixtures, and tools. Value engineering over the product life cycle is more challenging when the drive is to reduce product cost over time.
There's no doubt that the cost of engineering labor in some foreign markets is lower than that the US. However, that factor alone is not the only driver that should dictate where product development is performed.
Clients considering working with a product development partner should consider the entire product development spectrum; the potential for critical concerns over intellectual property protection; the need for free-from creative thinking, flexible and highly responsive product development processes; and offshore versus onshore manufacturing factors. It may be the case -- as many firms are now finding -- that product development may be best employed using domestic teams.
Mitch Maiman is the president and co-founder of Intelligent Product Solutions (IPS), building on a vision of delivering a new model for software and hardware product development that integrates the full spectrum of design and engineering disciplines as a single-source solution.
[image via Stuart Miles at FreeDigitalPhotos.net]
Like reading Design News? Then have our content delivered to your inbox every day by registering with DesignNews.com and signing up for Design News Daily plus our other e-newsletters. Register here!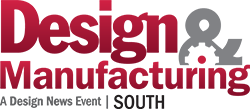 Design News will be in Orlando in November! Design & Manufacturing South will be in Orlando Nov. 18-19. Get up close with the latest design and manufacturing technologies, meet qualified suppliers for your applications, and expand your network. Learn from experts at educational conferences and specialty events. Register today for our premier industry showcase in Orlando.