This year, Kelly Services celebrates 50 years of helping connect qualified, dedicated engineering talent with thousands of companies. We're not throwing a big party or making a big splash about this anniversary, but we are taking time to reflect on what's changed over five decades.
So what did the engineering work landscape look like in 1965? For one, wages, proportionally, were much lower. Hourly wages of $3.50 to $4.25 were typical, which meant salaries were under $10,000 per year for skilled engineers, who made up a large segment of the working population.
The exact number of engineers in the 1965 workforce is difficult to pin down exactly, but it's believed to be approximately 800,000. Today that number is over 2.5 million, according to info.com.
Gender references seem particularly dated and almost humorous now. Engineers were invariably referred to as "men," and everything written about them referred to "he" or "his." Our own early Kelly records indicate that in our first year, when we had 30 engineers, one was female.
Changes in technology have also been remarkable. Have you seen on social sites the picture of IBM loading a 5 MB hard drive into a semi in the late 1950s? It's amazing. Of course, we've all heard about how your average smartphone has more computing power than NASA had to land a man on the Moon. And do your remember the kind of camera you used to take prom pictures when you were in high school?
TV shows like Star Trek in the mid-1960s presented futuristic devices that seem quaint now but were creative blueprints for many of the amazing technology we use every day, from cellphones to medical devices like the famous Tricorder that Mr. Spock and his comrades always carried on missions. The descendant of the Star Trek replicator (or is it precursor?), 3-D printing has become a reality.
READ MORE ARTICLES FROM TIM MCAWARD:
There has been a great evolution in occupations from a primary industry/career change standpoint. In 1965, I doubt that there was anyone who dreamed of web development as a career, for example. And the way that talent works has undergone dramatic change.
In 1965, tenure at one company for a lifetime was the norm for engineers. Now, spending a career at one company is unusual, frequent employer changes are typical, the average number of companies worked for over a career has multiplied, and a "free agent" approach to one's career is considered desirable as companies compete hard for in-demand engineering talent.
So what might be in store for us in the next 50 years?
From our perspective at Kelly Services, our client portfolio is giving us visibility into many of the advances on the horizon, and it is clear that innovation is driving immense changes and opportunities for talent, not to mention our own personal quality of life, and will continue to do so. Engineers will drive a lot of what's to come, without a doubt.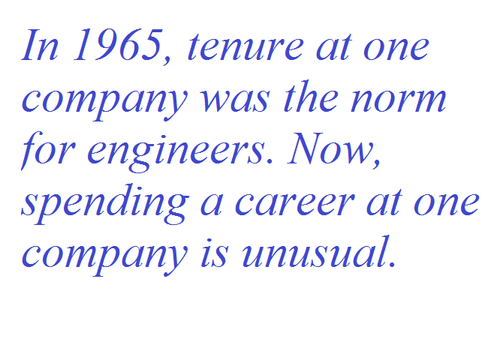 We'll see huge growth thanks to new frontiers such as biotechnology – remember the Six Million Dollar Man and Bionic Woman? Autonomous cars? They're just around the corner. Robotics is exploding. Materials? We'll make use of elements we couldn't have imagined in 1965, making things lighter, stronger, and more environmentally friendly. Architectural advancements like the amazing buildings in Dubai will fire up imaginations to see what else we can design and engineer.
So while we're not making a big splash, we are reflecting. And as a part of that, we're listening to stories told by our past employees and clients, and that's causing us to reflect even more. As I write this article, the Woodward Avenue Dream Cruise, an annual classic car event that takes place every August in southeastern Michigan, has just wrapped up its weekend festivities. With an estimated 40,000 vintage vehicles filling eight lanes and miles of road and well over a million people attending, there may be no bigger celebration of engineering and history anywhere in the world.
It's quite remarkable to see the historical evolution of automobiles over the decades, and there's no question that a huge amount of it has to do with engineering and engineers. That industry, and almost every other, will need engineers to figure out how to solve problems, innovate, and just plain improve the way things work.
What experiences have you had during your engineering career? What are the most amazing changes you've seen or been a part of? What do you think will be the biggest advancement in the next decade? Please comment below and share your thoughts!

Tim McAward is vice president and engineering product leader for Kelly Services, a leading provider of workforce solutions headquartered in Troy, Mich.
[Top photo: samuiblue at FreeDigitalPhotos.net]