In the growing additive manufacturing industry, lasers are typically used to sinter or melt powder material, including metal. The laser binds the material to create a solid structure, but the difficulty with current state-of-the-art additive that remains is designers need to choose between hardness and toughness in creating functional parts.
The compromise results in parts that break down and require regular replacement. Additive manufactured parts have not matched their conventionally produced brethren in mechanical properties, especially in applications involving extreme cycle-stress or high-temperature conditions, even following post-additive heat treatment and coating.
The Industrial Technology Research Institute (ITRI) in Taiwan, a government-funded research organization dedicated to advancing the country in technology industries, is aiming to improve laser technology to raise additive manufacturing performance, recently establishing a joint fund with Japan's Mitsubishi UFJ Financial Group. In their first round of funding, the groups have raised $45 million, and part of that money will be used establish the first laser company financed by Taiwanese and Japanese organizations. Their newly created Laser and Additive Manufacturing Technology Center will focus on the development of laser sources, laser processing, laser laminate manufacturing, and pilot production.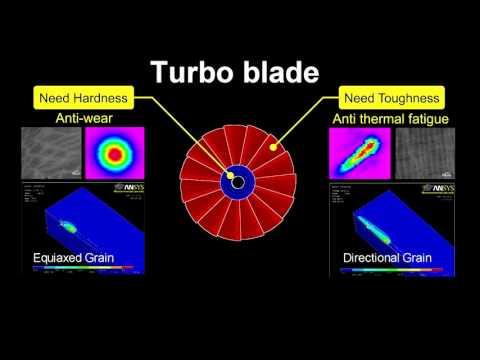 Description of the ITRI's Optical Engine laser technology.
(Source: Industrial Technology Research Institute)
Herb Lin, president of Industrial Technology Investment Corp., the wholly owned subsidiary of ITRI and its venture capital arm, bluntly told Design News that the limitations of traditional laser technology in 3D printing cause manufacturers to waste a lot of time and money. "So we make a lot of spare parts [through additive manufacturing] to replace the broken parts, and suffer a lot of losses due to work stoppage," he said.
Lin provided an example of the compromise that often needs to be made in 3D printing parts using current technology. "The turbine blade with a single or directional crystal structure has more than 10 times the durability to withstand high-temperature fatigue compared with other crystal structures, but its hardness is not good enough to prevent abrasion," Lin told us. "It is very difficult to get both of the qualities needed in the same part using traditional [additive manufacturing] methods."
[Learn more materials trends and developments at Pacific Design & Manufacturing, Feb. 9-11, at the Anaheim Convention Center.]
Technology being developed by the ITRI, called the Optical Engine for Material Grain Microstructure-Controlling Additive Manufacturing, can control material characteristics in the crystalline phase by adjusting the interactions between the laser and the material during the printing process. This reportedly results in a part that has different mechanical characteristics in different places, thus optimizing properties such as toughness and hardness where needed. Lin said part lifetime and efficiency can be improved by building the most suitable qualities into every location of the part.
"Engineers can get the optimal design to increase the part's lifetime and challenge the part to better efficiency: for example, higher speed, higher rotation, higher punch force, or higher working temperature," Lin said. "It can even achieve lighter weight in parts if all the properties are correctly arranged and set in position."
READ MORE ARTICLES BY TRACEY SCHELMETIC ON DESIGN NEWS:
ITRI's femtosecond laser (as opposed to current nanosecond and picosecond lasers) has potential applications for a variety of industries, including optical glass plate cutting and defect trimming that will be particularly attractive to manufacturers of flat panel displays, since the process offers the benefits of ablation without thermal damage. In the aviation industry, the new laser solution could be helpful for micromachining and precision drilling of engine parts.
"The femtosecond laser can be extended to a variety of applications such as glass cutting and metal drilling," Lin said. "Another target is to foster 3D laser metal printer technology. Accompanied by software control, the 3D metal printing enabled by this technology can extend to applications in industry sectors as diverse as aerospace, automotive, medical, molding, and even jewelry and other consumer goods."
Tracey Schelmetic graduated from Fairfield University in Fairfield, Conn. and began her long career as a technology and science writer and editor at Appleton & Lange, the now-defunct medical publishing arm of Simon & Schuster. Later, as the editorial director of telecom trade journal Customer Interaction Solutions (today Customer magazine) she became a well-recognized voice in the contact center industry. Today, she is a freelance writer specializing in manufacturing and technology, telecommunications, and enterprise software.