Design engineers have gotten an increase in their own personal debt ceilings. According to just-in data from our 2011 salary survey, Design News readers have received their first increases in average base salary in two full years. Average annual earnings were $93,465, which is a 4.3 percent increase from the $89,597 average reported last year. (The latter number was down slightly compared to 2009.)
More good news: 65 percent of respondents saw their base annual salaries jump, compared to 40 percent in last year's survey. Only four percent saw a drop, as opposed to nine percent in 2010.
Amid that good economic news, job mobility is still sluggish. That's to be expected in an economy that's still perceived as shaky. Respondents reported that the average time spent under the same job title was nine years, with 13 years at the same company.
Most of you are staying put for now. Thirty-three percent say they're always open to better opportunities, 25 percent are not actively seeking a new position, and 19 percent say they're happy where they are. Only nine percent are actively searching for a new job, with another 14 percent admitting to "passive" interest.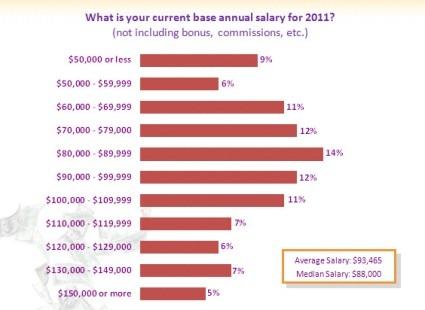 Base salary data from Design News 2011 salary survey.
For longtime engineers, both the joys and the pain points cited by fellow survey respondents will ring true. "Convincing upper management to think long-term about technology" and "Never sufficient time for launch of new products" were two responses to our query about challenging job factors.
Indeed, 47 percent of you said you find your jobs highly challenging, and nearly the same number said their jobs are more stressful now than they were two years ago. That was mostly the result of heavy workloads, though balancing work and home life, and keeping up with new technology, were also enumerated.
You can download a presentation of the salary survey data by clicking here (registration is required). We'll also take a deeper dive into the data in our August print issue.
Do your perceptions dovetail with the findings of our survey? Specifically, have companies loosened their purse strings over the past year and come through with raises that weren't forthcoming in 2009 and 2010? And are you skittish about pursuing new job opportunities, even though the grass might seem greener elsewhere? Let us know in the comments section below.