We told you how Department of Energy is experimenting with the design of a 100-meter wind-turbine blade to better generate offshore wind power. While researchers there work on their design, Adwen and LM Wind Power have come up with a super-sized design of their own, recently revealing the world's longest wind-turbine blade to date for offshore wind farms.
The two companies co-developed the blade, which is 88.4 meters long, specifically for Adwen's new AD 8-180 wind turbine model. The blade has 8 megaWatt nominal capacity and an 180-meter rotor diameter, according to the companies.
"This blade was developed specifically for Adwen's new wind turbine generation, introducing innovative technologies based on LM Wind Power's longstanding track record and experience with design, materials, and manufacturing for high-performance blades," said Roel Schuring, CTO of LM Wind Power. He said the companies expect the blade will be installed mainly in European offshore markets, though it's designed to serve offshore markets anywhere in the world.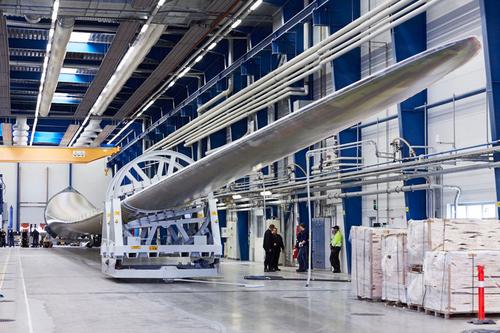 Adwen and LM Wind Power have partnered to present the longest wind-turbine blade in the world, at 88.4 meters, which is aimed for offshore wind power. The companies designed the blade specifically for Adwen's AD 8-180 wind turbine model, with 8MW nominal capacity and an 180-meter rotor diameter.
(Source: LM Wind Power)
LM Wind Power's factory in Lunderskov, Denmark, has manufactured the first of these blades, which the companies said will increase the amount of energy offshore wind turbines can provide and thus drive down the costs of wind energy. The blade is currently undergoing testing by Adwen to ensure it can function on par with the company's product-validation plan before it will be deployed in three offshore projects in France.
"The rotor is the motor and to put it simply, longer blades extract more energy from the wind," Schuring said. "Increasing the annual energy production from each offshore wind turbine is a key driver to reduce the levelized cost of offshore wind energy which is decisive for large-scale deployment. The blade is the single most influential component for increasing energy yields and its design and aerodynamic features can make a huge difference for the turbine's power production."
Engineers from both companies worked for months on the design, which is based on years of experience in designing blades that are gradually scaling up, he said. The length of the blade represents the best compromise between swept area, energy production, and the weight as well as the loads transferred to the wind turbine, Schuring said. The blade design also was conceived with scalability in mind to enable the further development of Adwen's 8 MW platform, he added.
"We've learned a lot from making the world's longest blades at 61.5 meters in 2004 and at 73.5 meters in 2011, and we've been able to use these building blocks while adding new features and material innovations that allow us to use well known manufacturing technology and processes," Schuring said. "Reliability is key and our approach reduces risk."
READ MORE ARTICLES ON WIND TURBINES:
There were a number of challenges to design blades of this scale, he added, with the biggest being to develop new production equipment and "to make it fit into our existing manufacturing facility to accommodate this huge structure," Schuring said. Preparing a means to transport the turbine blade also was "a story in itself," he added, offering another challenge to the achievement of the new turbine blade.
Elizabeth Montalbano is a freelance writer who has written about technology and culture for more than 15 years. She has lived and worked as a professional journalist in Phoenix, San Francisco and New York City. In her free time she enjoys surfing, traveling, music, yoga and cooking. She currently resides in a village on the southwest coast of Portugal.