3D-Printed Plastic Parts Are As Strong As Aluminum
3D-Printed Plastic Parts Are As Strong As Aluminum
Global 3D printing production network 3D Hubs is now offering new engineering-grade fiber-reinforced nylon composites that rival aluminum in strength.
Global 3D printing production network 3D Hubs is now offering new engineering-grade fiber-reinforced nylon composite materials that can rival aluminum in strength. Printed on industrial machines, these materials are made possible at selected hubs in its network with Markforged's continuous fiber 3D printing process.
The new composite materials include nylon reinforced with carbon, Kevlar, or fiberglass, so engineers can optimize their parts for strength, stiffness, weight, and temperature resistance. Strength-to-weight ratios higher than those of 6061-T6 aluminum are possible with the carbon fiber-reinforced nylon. So are parts up to 24 times stronger and 27 times stiffer than ABS.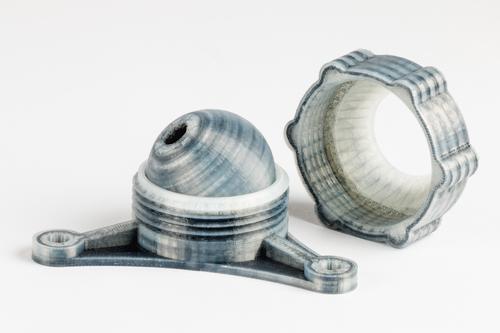 Functional ball joint 3D printed using carbon fiber-reinforced nylon.
(Source: 3D Hubs)
3D Hubs' website says the Markforged materials are especially suited for structural parts, functional prototypes, and custom end-use production parts, as well as jigs, fixtures, and tooling. The fiberglass-reinforced nylon is as strong as the carbon fiber-reinforced material, but it's twice as heavy and 60% less stiff. The Kevlar-reinforced nylon has the best abrasion resistance and the most flexibility among the three, making it best for parts that are durable and resistant to impact.
The Markforged continuous filament fabrication (CFF) process embeds a continuous fiber inside the nylon layers for reinforcement. It does this using two different printheads. One is a standard filament fusion print head that melts a filament of nylon by pushing it through a heated nozzle and placing it precisely. The other lays down the continuous fiber.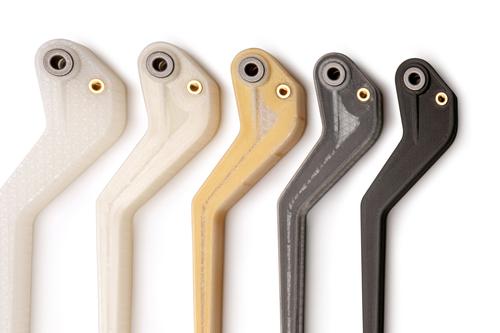 Prototype brake lever 3D printed using fiber-reinforced nylon materials: unreinforced nylon, fiberglass-reinforced, Kevlar-reinforced, carbon-reinforced, dyed carbon-reinforced (left to right).
(Source: 3D Hubs)
Since the CFF process must embed a long enough continuous fiber to give structural reinforcement, small or intricate parts can't take advantage of it. For this reason, the new materials are not recommended for fabricating small parts or parts with intricate details.
When designing parts to be printed with the new materials, 3D Hubs suggests several design rules. A minimum detail size of 0.8 mm is recommended. A minimum feature size of 3 mm and a minimum wall thickness of 3 mm are recommended for reinforced parts, along with at least 0.5 mm clearance between moving or interlocking parts.
You can find a datasheet for all three of the new reinforced nylon materials here.

READ MORE ARTICLES ON 3D PRINTING:
Sign up for the Design News Daily newsletter.
You May Also Like
---
DesignCon 2024

Jan 30 - Feb 1, 2024
Jan 30 - Feb 1, 2024
DesignCon is the premier high-speed communications and system design conference and exposition, offering industry-critical engineering education in the heart of electronics innovation — Silicon Valley.
Learn More