One of the hottest topics in manufacturing today is 3D printing and additive manufacturing (AM). New alliances, faster processes, better software, high-quality materials, and emerging standards mean the world of manufacturing is about to change. In some industries, like medical and aerospace, it already has. The evolving world of AM and some of its challenges will be discussed by a panel of hands-on experts in 3D printing at next month's Embedded Systems Conference in Minneapolis.
The panel, 3D Printing: The Brave New World of Manufacturing, will be moderated by yours truly, and held on Thursday, Sept. 22 at 11 a.m. Panelists I'll be talking with include Scott Sevcik, director of manufacturing platform development at Stratasys; Rich Baker, chief technology officer for Proto Labs; Scott Johnston, electrical engineering lead at Formlabs; Donovan Weber, co-founder and chief operating officer for Forecast3D; and Tyler Pope, co-owner of 3D Printing Ally.
All of the panelists have been deeply involved in AM and engineering for several years. They also have direct experience in industries using 3D printing, such as aerospace and automotive, and in the design and use of a variety of manufacturing systems, as well as handling, automation, and test systems.
Some of the questions I'll be posing to panelists will focus on the major changes happening in the world of 3D printing and AM in machines, materials, and software. Many of the industry's current efforts are aimed at redesigning all three from the ground up so they're optimized for additive, instead of subtractive, manufacturing of end-production parts. But a lot more needs to be done, including much tighter integration of all three areas.
Stratasys, one of the two biggest public companies in 3D printing, has stated often that end-manufacturing is the direction where it sees the industry going. It has built a wide variety of machines for production and has expanded its materials aimed at building structural parts, including forming a division focused on developing advanced materials. The company is a founding member of the 3MF (3D Manufacturing Format) Consortium, which offers a free, open-standard 3D printing file format.
Panelist Scott Sevcik is focused on the development of next-generation 3D printers for additive manufacturing in high-performance applications. Before his current role, Sevcik was responsible for accelerating the adoption of additive manufacturing in aerospace and defense globally. He also has a background working at United Technologies Aerospace Systems and Lockheed Martin. He holds master's degrees in aerospace engineering and business administration, and is a certified Project Management Professional.
Proto Labs is a pioneer in many areas, including 3D printing. Originally a leading quick-turn service bureau focused primarily on CNC machining and injection molding, it adopted 3D printing as a necessary, complementary service for its customers after a thoughtful process that included in-depth customer surveys. Now it's a member of HP's Multi Jet Fusion ecosystem of industrial partners, and Proto Labs will be a product testing site for HP's new 3D printing technology aimed at industrial-grade end-production.
Before joining Proto Labs, panelist Rich Baker's background was in designing and delivering manufacturing systems to aerospace, automotive, and medical device customers, as well as material handling and robotic crane systems, and mechanical test and simulation systems. In addition to engineering degrees, he also has a PhD in theoretical physics and applied mechanics from Cornell University. On the day before my panel, Baker will be giving a talk at co-located shows on More Than Prototyping: Additive Manufacturing's Role in Industry 4.0.
---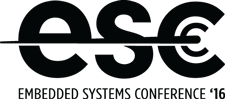 3D Printing's Brave New World. Ann Thryft will lead a panel discussion on one of the hottest topics in manufacturing: 3D printing. Come hear "3D Printing: The Brave New World of Manufacturing" at the Embedded Systems Conference. Sept. 21-22, 2016 in Minneapolis. Register here for the event, hosted by Design News' parent company UBM.
---
Formlabs is probably known best for its Form 2 stereolithography (SLA) desktop printer, which has professional-grade resolution for producing extremely high-quality prints. It's also known for being one of the first companies to use Kickstarter as a platform for launching a new 3D printer, the Form 1. That printer was one of the first sub-$10,000 prosumer machines, broadening the reach of professional 3D printing. The company was also one of Microsoft's first partners to support its Windows 8.1 update that introduced built-in support for desktop 3D printing.
The company was launched by researchers from MIT's Media Lab. Panelist Scott Johnston, who has a BSEE from MIT, oversees the design of hardware and embedded systems for the Form 2 and beyond. He brings over 13 years of experience in electrical engineering and hardware development to Formlabs, and currently holds 21 US patents.
Service bureau FORECAST3D is known for its expertise in producing high-quality, enterprise-grade prototypes and short-run production parts with a wide range of AM technologies. These include SLA, direct metal laser sintering (DMLS), selective laser sintering (SLS), fused deposition modeling (FDM), and PolyJet. It's also got CNC and hybrid tooling services, along with ProCAST RTV tooling, and boasts the largest prototype casting chamber in the US.
Panelist Donovan Weber calls himself "a self-professed additive manufacturing nerd." He started the company in 1994 with his brother in their garage with just one printer: an SLA 250/10. Today, FORECAST3D has more than 30 machines and 100 employees, and has become a preferred source for top-tier OEMs in the medical, aerospace, and automotive markets.
Small service bureau 3D Printing Ally has experience with a wide range of industries. It brings a somewhat unusual perspective to the panel, since the startup works with smaller customer companies as well as large ones. In discussions of how the 3D printing industry can move toward end-production, the needs of smaller manufacturers are not always represented, or represented accurately.
With a background in tooling and fixturing for aerospace applications, panelist Tyler Pope has coordinated projects from small to very large and valued in the millions of dollars. Starting first as a machinist and working his way up to manufacturing engineer, Pope gained experience in workflow and AM technologies to bring the best in machines, design, and delivery to his clients. Last month, he presented a Design News webinar on 3D printing, called Next-Generation Design in Additive Manufacturing. It's available on demand here.
3D printing and AM may not be replacing high-volume, mass manufacturing of consumer products anytime soon. But they will be rocking your world in industrial-strength, industrial-style large volumes of end-production components. Come join us and find out how.
Ann R. Thryft is senior technical editor, materials & assembly, for Design News. She's been writing about manufacturing- and electronics-related technologies for 28 years, covering manufacturing materials & processes, alternative energy, and robotics. In the past, she's also written about machine vision and all kinds of communications.