3D Printing Helps Scale Nano-Materials in Unprecedented Way
3D Printing Helps Scale Nano-Materials in Unprecedented Way
Engineers at the Lawrence Livermore National Laboratory have achieved the ability to scale nanotechnology for the development of super-strong, lightweight metal materials.
Nanotechnology is proving to have applications in numerous scientific disciplines -- from materials science to battery chemistries to solar energy -- but so far it's been difficult to scale materials up to provide the same benefits at a larger scale.
Now engineers at the Lawrence Livermore National Laboratory (LLNL) have achieved that ability to scale nanotechnology in 3D-printed architectures of arbitrary geometry, paving the way for super-strong, ultra-lightweight, and flexible metallic materials for aerospace, the military, and the automotive industry.
Researchers took inspiration from the hierarchical structure of materials found in nature -- such as wood and bone -- for the materials, they said. The finished product -- a nickel-plated metal material with high elasticity -- integrates multiple levels of feature size, from nanoscale films to the macroscale unit cells and lattices, within a single piece of material that's about 5 centimeters long.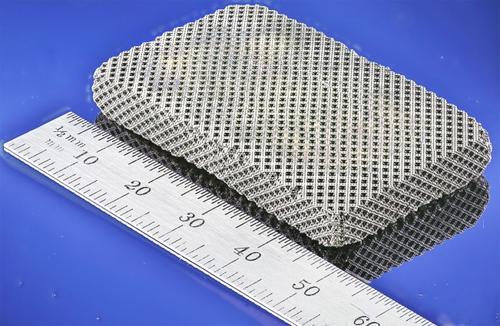 An optical image of a bulk-scale hierarchical nickel phosphorous lattice material with a network of hierarchical stretch-dominated octet unit cells developed at the Lawrence Livermore National Laboratory.
(Source: Xiaoyu Zheng and William Smith, LLNL)
"With these 3D features we've been fabricating on a nanoscale, you can get some really interesting properties, but people have never been able to scale them up and see how they behave," said Xiaoyu "Rayne" Zheng, a former LLNL technical staff member who led the research and is the lead author on a paper about the work in the journal, Nature Materials. "We've figured out a strategy of hierarchically building them to take advantage of the nanoscale features, but use them at a large scale. It turned out better than we could have imagined." Zheng is now a professor of mechanical engineering at Virginia Tech.
Engineers originally printed the lattices out of polymer using a unique Large Area Projection Micro-Stereolithography (LAPuSL) printer invented at the lab by LLNL engineer, Bryan Moran. They then coated the lattice structure with a nickel-phosphorus alloy removed the polymer core in post-processing. What was left were extremely lightweight, hollow tube structures.
During material testing, researchers found that structures fashioned with walls 700 nanometers thick broke under a 5% strain, while those with 60-nanometer walls could stretch considerably more -- about 20% -- before failing.
READ MORE ARTICLES ON NANOTECHNOLOGY:
Sign up for the Design News Daily newsletter.
You May Also Like
---
DesignCon 2024

Jan 30 - Feb 1, 2024
Jan 30 - Feb 1, 2024
DesignCon is the premier high-speed communications and system design conference and exposition, offering industry-critical engineering education in the heart of electronics innovation — Silicon Valley.
Learn More