You don't have to be brilliant to be a good engineer. You just need to be able to find the answers to what you need to know for the specific task at hand. That can take the form of good Internet research skills, and it doesn't hurt to have a decent technical library in your office. Knowing when to call tech support or when to strike up a conversation with a field application engineer is an important skill. To paraphrase a well-known movie quote, always be learning, because not only is technology constantly changing, there are always areas that you can learn more about.
If you're strictly a hardware guy, it's worth some time to look at software just so you will have a basic understanding of how everything is working together. Conversely, it wouldn't hurt software guys to develop an understanding of basic electronics. Even beyond that, learning to think outside the box and being willing to learn a new technology increases your value to your company, as you are able to problem solve beyond what is currently in use.
As a test engineer, I am frequently given a list of test specs by the product engineer for a part that I have never tested before. Not only do I have to figure out how to test the parameters required, I have to design fixtures for the test set and any data logging and labeling requirements that the customer has requested. How you do this is not taught in school; it is up to you to use the educational foundation you have to pursue answers to the problems you are given. And if you truly love engineering, meeting that challenge is the fun part!
Don't reinvent the wheel. When you first enter any new engineering job, there is always a learning curve. When I first started working on hall-effect devices, it took me several months to become fully competent in working with them. From product engineering to test, I had a lot to learn.
I soon realized that the guy that worked on hall-effects on the wafer level was a tremendous source of knowledge. I had many cups of coffee in his office, listening to explanations that came from real-world experience rather than just the theory from a textbook. Thanks in no small part to the knowledge I gained from my colleagues, I was able to design and build test sets that accurately allowed me to characterize hall-effect sensors in their packages.
Other engineers have also blessed me throughout my career with their willingness to share their knowledge and technical skills. On the flip side, be a resource for others. Mentor younger, less-experienced engineers and provide technical assistance to seasoned veterans who are working in your area of expertise but outside of theirs.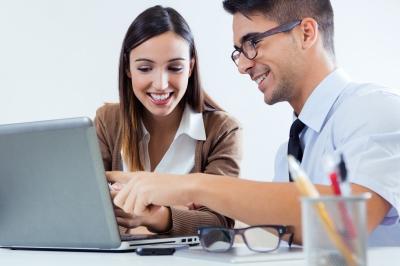 Navigating the Engineering Waters as a Woman
If you are a woman engineer, learn not to take things personally. Develop a thick skin. I am not talking about being tolerant of disrespect, but realize that your work environment may have been exclusively male in the past. I was the only female engineer in my department, and all of the technicians were also male. When traditionally male environments are not used to a female in the ranks, political correctness won't realistically happen overnight.
Set firm boundaries in the beginning (do not tolerate any type of sexual harassment), but don't expect the guys to alter their behavior completely just because a lady is present. And when one of them asks you to get him a cup of coffee, feel free to tell him to go get it himself and while he's at it, bring you a cup, too -- with two sugars and a little cream.
If someone makes inappropriate remarks or otherwise behaves unacceptably, speak to him privately first, but make sure you are in a public area when doing so. I had a male co-worker who made lewd remarks in my vicinity, so I confronted him politely but firmly and told him I did not appreciate his behavior and to please stop. I also let him know that if he didn't stop, I would escalate the matter up the chain of command and to HR if necessary.
The man apologized and stopped the behavior. Future interactions were respectful, and we enjoyed working on projects together. If I had gone straight to HR rather than trying to talk to him first, our working relationship would probably have been very different. In some cases you may need to go to HR, but it is worth trying to solve the problem with the person first, if possible.
READ MORE CAREER ARTICLES ON DESIGN NEWS:
If you approach your co-workers and management with a pleasant and willing attitude, you will develop a reputation for being desirable to work with. When you respect everyone and are interested in the well-being of others, you become respected and people enjoy working with you.
As an engineer, whenever I had to ask one of the ladies on the line for help (such as bonding wires – now that is a meticulous and difficult job to do well), the first thing I would do is greet her and ask how she was doing and inquire about her family. I would then explain the task I had come to request of her, but I would go beyond just the work explanation. I would share with them whom it was for and why it was needed. This was extraneous information for doing the task that many engineers leave out, but it made the person feel valued and part of the team. Without these folks, we wouldn't be able to accomplish our tasks, and they deserve thanks and recognition, too.
If you are a woman engineer, realize that ultimately good work trumps any gender bias -- every time. If you are a talented engineer with a passion for your work, that will shine through and no one will care if you are a guy, a gal, purple, green, or pink. What they will want is for you to be on the project because you do a good job. Competence trumps gender bias every time.

Design News will be in Minneapolis and Orlando in November! Design & Manufacturing Minneapolis will take place Nov. 4-5, while Design & Manufacturing South will be in Orlando Nov. 18-19. Get up close with the latest design and manufacturing technologies, meet qualified suppliers for your applications, and expand your network. Learn from experts at educational conferences and specialty events. Register today for our premier industry showcases in Minneapolis and Orlando
Nancy Golden started her electronics career at Dallas Semiconductor and moved to Optek Technology where she was a test engineer for several years, eventually moving up to test engineering manager. Nancy became especially experienced in hall effect characterization and test and also gained experience with photologics, LEDs, VCSELs, and fiber optic transmission. She was also the first person to become a Certified TestPoint Application Specialist (CTAS) by Capital Equipment Corporation and has done contract work for Hitachi and Andrews Corporation and control room software for NBC in Testpoint. While employed at Optek Technology she also authored articles for Test and Measurement World on test system development. Nancy owns a small business called Golden Technical Creations, a service oriented company that provides consulting, teaching, PIC programming, course development and web design to its customers. She also has a M.A.R. with a focus on intercultural studies and is an adjunct faculty member at Dallas Christian College.
[photo via stockimages at FreeDigitalPhotos.net]