Tuesday night, at a glitzy late-night event that had the feel of a rock concert, Tesla Motors CEO Elon Musk rolled out the company's long-awaited, all-electric sport utility vehicle.
Over the applause and cheers of attendees at Tesla's Fremont, CA, factory, Musk showed off the first production versions of the Model X SUV, which will combine all-wheel drive and seating for seven with an electric powertrain that can take the car from 0-60 mph in as little as 3.2 seconds.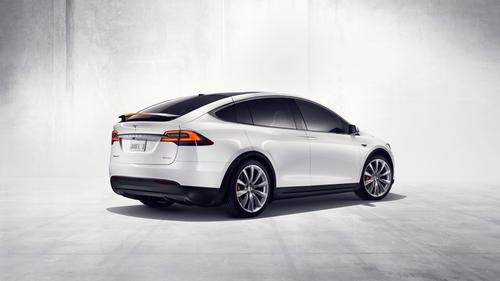 Power of the P90D version of the Model X will be split at 259 HP in front and 503 HP in the rear. A separate version known as the 90D will offer 259 HP for each, front and rear. (Source: Tesla Motors)
"It's important to show that any car can go electric," Musk told the crowd. "We showed that you could make a compelling sports car – the Roadster — that could go electric. We showed you could do it with a sedan. And now we are going to show that you can do it with an SUV."
READ MORE ARTICLES ON EV TECHNOLOGY:
The introduction served as an important milestone for Tesla. Since unveiling a prototype three-and-a-half years ago at its California design studio and calling for a 2013 rollout, Tesla has delayed the intro of the Model X – first to late in 2014, then again to Tuesday night.
Many of the delays were said to be attributed to engineering complexity, and the nature of the complexities grew clearer at Tuesday night's event. Musk took more than half an hour explaining some of the car's new features, including double-hinging falcon wing doors that use sensors for opening in tight quarters, medical-grade interior HEPA filters, adjustable rear seats that sit on "monoposts," a panoramic windshield, seating for up to seven, and a 250-mile all-electric range.
At the event, Tesla provided specs for two new Model X versions. The P90D performance all-wheel drive vehicle will offer a 250-mile range, with a 3.8-second 0-60 mph time (3.2 seconds with the company's "Ludicrous Speed Upgrade"). Power of the P90D will be split at 259 HP in front and 503 HP in the rear. A separate version known as the 90D will offer 257-mile range, a 4.8-second 0-60 mph and 259 HP for both front and rear.
Prices for the two versions will be high. Musk did not elaborate, but the 90D has been reported in numerous media outlets as costing $132,000, while the P90D will run $142,000.
Eventually, the company expects costs to drop. On Twitter overnight, Musk added that the base price of the Model X will be only $5,000 more than the Model S, which starts around $70,000. "Lower cost versions coming later," he tweeted.
Btw, price of Model X is actually only $5k more than S. Lower cost versions coming later.

— Elon Musk (@elonmusk) September 30, 2015
The high prices are clearly not deterring customers, however. More than 32,000 potential buyers have reportedly already plunked down at least $5,000 to hold a Model X without ever seeing a production car.
Moreover, the event provided a snapshot of Tesla's rising popularity. Prior to it, many websites – including TIME, Engadget, TechCrunch, and The Verge — ran stories telling readers "how to watch" the event on the web Tuesday night. The Los Angeles Times reported that "a crowd rushed the entrance of the exhibition hall" prior to the introduction. And during the event, Musk was constantly interrupted by cheers, despite beginning 54 minutes late. At one point, the crowd even hooted and cheered wildly when Musk displayed the car's cabin air filter.
As of Wednesday morning, praise for the new vehicle has been effusive. Writers at various news outlets called the car "awesome," "gorgeous," "stunning" and "dramatic." Wrote Wired: "Tesla has made the family car cool."
Click the image below to see more pictures of the Model X.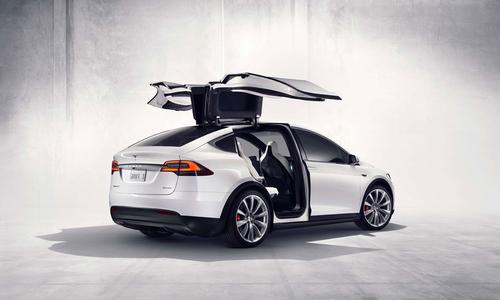 Tesla's long-awaited Model X SUV will offer up to 257 miles of all-electric range and a 0-60 mph acceleration time as low as 3.2 seconds. (Source: Tesla Motors)
Senior technical editor Chuck Murray has been writing about technology for 31 years. He joined Design News in 1987, and has covered electronics, automation, fluid power, and autos.