Known as the ActiveMover, the transfer system combines high speed and acceleration with quick pallet changes and the ability to handle a payload of up to 10 kg (22 lb). "Whereas traditional systems will reach about 18 meters per minute, this system will go up to 150 meters per minute," Gerald Berzins, application engineering supervisor for Bosch Rexroth Corp. said at the recent Pacific Design & Manufacturing Show in Anaheim. "So it takes us into applications and markets where traditional systems can't go."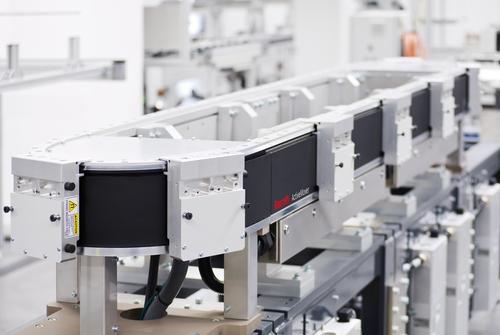 Bosch Rexroth's ActiveMover transfer system uses linear motor technology to produce speeds up to 150 m/min.
(Source: Bosch Rexroth)
The new product, announced at the PD&M Show, is particularly well-suited for applications requiring precision. Along with the 150 m/min speed, it offers repeatability of ±0.01 mm. Acceleration force is 4g for a 1-kg load and 1g for a 10-kg load. The system typically employs two or three permanent magnets and uses a workpiece pallet measuring 165 mm wide.
Rexroth engineers said they chose a linear-motor-based design because customers are increasingly asking for speed on their transfer lines. Although they considered other technologies, none offered the speed and precision of a linear motor, they said. "The linear motor-based conveyor is definitely the direction we see the industry going," Berzins told us.
READ ABOUT LINEAR MOTOR TECHNOLOGY:
Senior technical editor Chuck Murray has been writing about technology for 31 years. He joined Design News in 1987, and has covered electronics, automation, fluid power, and autos.