While electric buses have become a staple of transit agencies all over the globe, one company is gaining share in the US market through a groundbreaking design: building buses from the ground up as battery electric vehicles (BEVs).
According to Ryan Popple, CEO of Proterra Inc., based in Greenville, SC, designing an electric bus from scratch is more of an innovation than you might think. Most electric buses on the market are adapted from conventional diesel-fuel models, he told Design News in an interview. For starters, these buses come with steel or aluminum bodies.
"But we started from scratch," Popple said, and according to him, this has allowed Proterra to create lightweight buses on a platform designed to accommodate EV batteries and mechanical components in the most efficient manner. "We're going with composites and carbon fiber [bodies], so that even after you add the batteries, ours still weighs less than a diesel bus and significantly less than CNG (compressed natural gas)."
"The other neat thing about starting from scratch is that we can put everything exactly where we want," Popple said. Because other EV manufacturers build electric buses on conventional platforms, they have to jury-rig their designs to fit in the batteries wherever they can, so they are often scattered across locations throughout the vehicle. "We put our batteries in the optimum location, between the axles and outside the passenger compartment, not on the roof," Popple said.
Proterra calls its battery-electric bus platform Catalyst and promotes it as "up to 500% more fuel-efficient than a typical diesel or [compressed natural gas] bus," according to company materials. The company claims a 21.4 mpge (miles per gallon equivalent), compared to 3.27 mpg for compressed natural gas, 3.86 mpg for diesel, and 4.58 mpg for hybrids. That efficiency, the company asserts, provides a lower total cost of ownership (TCO) for its buses compared with the other technologies.
The Catalyst platform allows for customization and configurability to match the requirements of a transit system and its routes. It can carry from 53 kWh to 321 kWh of energy. Popple said Proterra's vehicles are able to travel more than 200 miles on a single charge under the right conditions.
The company supplies both an in-depot charger that can charge a bus in 90 minutes and a fast-charge technology that can charge an en-route bus during stops, curbside pullouts, and driver changes. Using the fast-charge technology, Proterra's buses are able to operate 24/7 and even covered a 700-mile route in 24 hours during one demonstration. This kind of around-the-clock operation, Popple said, is particularly well-suited to continuous circular routes at airports, universities, and hospitals.
Research firm IDTechEx estimates that nearly 50,000 electric buses will be sold in 2015 globally, with the majority of those being pure-electric BEVs due to the demand for the technology in China. The firm predicts that 69% of large electric buses manufactured in 2025 will be pure electrics. The company's analysts say hybrid electric buses are still the preferred EV technology in the West because of their lower initial cost and operational flexibility.
READ MORE ARTICLES ON ELECTRIC VEHICLES:
In China, the need for BEV buses is urgent because of the country's heavy air pollution. IDTechEx says China will spend up to $1 trillion over the next 15 years on electric buses and end up with "about 10 million large electric buses and one million electric midi [schoolbuses], more than the rest of the world combined."
Proterra has sold some 108 vehicles to 14 transit agencies in North America. Popple told us that Proterra plans to stick to the North American market for the time being: "We think the right strategy is to perfect the product in our home market, then decide how we want to scale globally."
Popple, who used to work at Tesla, has a lot of respect for Elon Musk's company and the way it is attacking the volatile light-duty vehicle market. In many ways, though, he thinks the public transit vehicle market is easier to crack. Sales are less subject to the whims and short-term ups-and-downs of consumer buying habits. Transit agency customers calculate their costs over the long run, so they can see the benefits of the lower TCO for electric buses.
"It's a very rational market," Popple said. "They're very rewarding customers to work with. They value what this technology does. Tesla is doing something much bigger and much harder than what we're doing."
Proterra recently announced a new 35-foot Catalyst electric bus, to provide a more maneuverable alternative to its original 40-foot model. Dallas Area Rapid Transit has reportedly purchased seven of the new shorter models.
Al Bredenberg is a writer, analyst, consultant, and communicator. He writes about technology, design, innovation, management, and sustainable business, and specializes in investigating and explaining complex topics. He holds a master's degree in organization and management from Antioch University New England. He has served as an editor for print and online content and currently serves as senior analyst at the Institute for Innovation in Large Organizations.
Like reading Design News? Then have our content delivered to your inbox every day by registering with DesignNews.com and signing up for Design News Daily plus our other e-newsletters. Register here!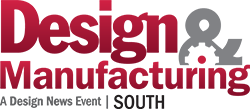 Design News will be in Orlando in November! Design & Manufacturing South will be in Orlando Nov. 18-19. Get up close with the latest design and manufacturing technologies, meet qualified suppliers for your applications, and expand your network. Learn from experts at educational conferences and specialty events. Register today for our premier industry showcase in Orlando.