Carl Guardino says he's converted. Guardino, the president and CEO of the Silicon Valley Leadership Group, won't go back to conventionally powered vehicles now that he has tested a pre-production Toyota Prius Plug-in Hybrid vehicle (PHV).
"I'm not getting another gas-burning car," says Guardino, who started testing the Prius last year. The conventionally powered Volvo S60 he previously owned "didn't fit who I am in terms of my concerns about pollution and climate. And it didn't fit who I am in terms of cost efficiency."
If Guardino's opinion is any indication of broader public perception, then Toyota's new plug-in vehicle may be about to hit its target in the consumer space. The forthcoming Prius isn't an electric car, but it could give consumers the feeling of owning one, since it calls for them to plug it into an electrical outlet.
For Toyota, engineering a car that plugs into a wall socket could be a big step forward. On one hand, the giant automaker is dipping a toe into the electric car world. On the other, it's maintaining its bent for economic practicality.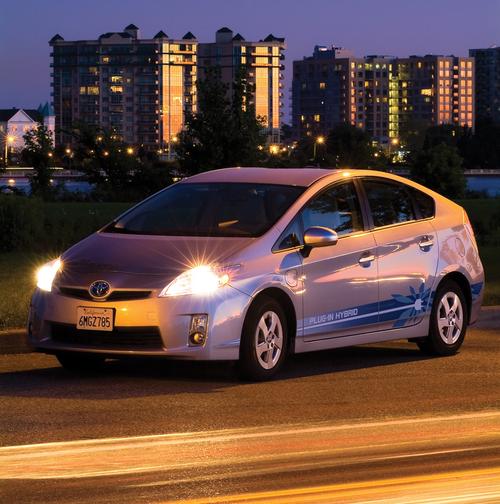 The Prius PHV looks like a conventional Prius, except for the charge port near the left front wheel.
"There's a price point that our customers are comfortable at, and that's at about $26,000," says Bill Reinert, national manager of advanced technology vehicles for Toyota Motor Sales USA. "Beyond that, it's a very steep curve. The number of consumers who want to buy something past that price point diminishes pretty rapidly."
For Toyota engineers, that observation has become the key to the design of the new Prius PHV. Using economic practicality as a baseline, the engineers designed a "partially electric" car with a relatively small battery and less all-electric range than competitors offer. As a result, the new vehicle goes only 13 miles on a charge, but it offers dramatically lower costs and recharging time than competing electric vehicles and plug-ins. Rated at 5.2kWh, the battery offers about a third the capacity of the Chevy Volt 16kWh battery and less than a fourth the capacity of the Nissan Leaf's 24kWh battery. But it can be charged on a 110V outlet in a scant three hours.
Toyota engineers are hoping those figures will add up for consumers. They say the smaller battery means not only faster recharging, but also lower costs.
"The plug-in Prius is going to shake up the market quite a bit," says Dave Hurst, a senior analyst for Pike Research. "If they can bring this car in at the $28,000 to $30,000 range, they'll get a lot more people who can actually afford it."