"I was walking too close to the edge of a train platform, I mean, that's a stupid thing to do." That's James Young describing the accident in London in which he lost an arm and a leg. An avid video gamer, Young, who is the subject of a short BBC Three documentary, Bodyhack | Metal Gear Man, said one of his biggest concerns was if he'd be able to play video games again. "I remember thinking, 'How am I going to game?' It was the biggest thing that pissed me off in the hospital," Young said in the documentary. Today, he's using a bionic arm that was given to him by a video game company and inspired by a video game character.
About a year ago, video game maker Konami, best known for the Metal Gear, Contra, and Dance Dance Revolution franchises, put out an advertisement seeking an amputee to receive a prosthetic arm inspired by the one used by Snake, the main character in the game Metal Gear Solid V: The Phantom Pain. They chose Young and partnered with The Alternative Limb Project, a prosthesis design group headed by designer and sculptor Sophie De OIiveira Barata, to create a prosthesis inspired by the game.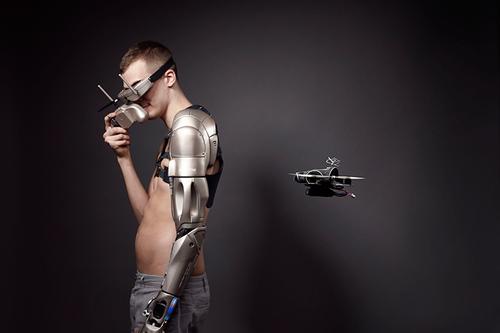 Among other features, James Young's arm can house a quadcopter that he can control.
(Source: The Alternative Limb Project)
The resulting arm looks just like something out of a science fiction game. Aside from what you'd expect from a prosthesis, it also features Bluetooth capability and a USB port in its wrist; a small screen interface that connects with Young's smartphone to display messages, calls, and social media notifications; and a "social space" removable panel in the shoulder that can hold a camera, lighting display, recorder, or other small device that can be charged and powered by the arm. This same social space can also house a quadcopter that Young can pilot with a separate controller and first-person goggles.
The arm, which cost about $88,000 to produce, is controlled via a leather harness with sensors that attach to Young's back and shoulder and allow him to manipulate the arm and hand. Initially, as shown in the BBC documentary, there were some growing pains, and the arm was not very functional. But in an AMA (Ask Me Anything) on Reddit, Young said the carbon-fiber arm, made with materials supplied by race car part supplier Global Technologies Racing, is now mostly functional, despite having a "huge battery, a chunky servo, chunky steel alloy detachment points, lots of silicone for padding, a heavy plastic elbow (off the shelf) ..." among other issues.
READ MORE ARTICLES ON PROSTHETICS:
Asked about further technical details of his arm, specifically the 3D-printed hand, which was supplied by a UK-based startup called Open Bionics, Young replied:
The PCB in the hand is based around the ATMEGA2560 microcontroller and can be programmed using the Arduino IDE. The PCB features a 4-pole 3.5-mm jack for communication to external sensors. This connection can be configured in software for either I2C or Analogue sensor input. By connecting two exposed pads it can also be used for UART communication. The board boasts nine additional broken out pins from the ATmega2560, allowing for extra hardware modifications.
Young is currently fundraising to receive titanium bone implants, a procedure called osseointegration that would let him have prosthetics that are easier to attach and are better at bearing his weight. Will he modify his Metal Gear arm to work with the new implant? As Young told a Reddit user: "It could potentially work with a titanium implant because it detached at a similar point -- I'd just need [Global Technologies Racing] to machine me an adapter, then I could lose the harness! I'd still need an electrode array, though, but maybe stitched into an underarmour-style tee -- easy!"
Watch the two-part documentary Bodyhack | Metal Gear Man below:
center>
center>
Chris Wiltz is the Managing Editor of Design News