In a move that caught many of guard and is sure to have ripples across the technology sector - particularly the Internet of Things (IoT) - Japanese telecom and Internet company SoftBank Group has made a deal to purchase UK-based semiconductor IP giant ARM Holdings for about $32 billion in cash. The deal, made in the span of two weeks and announced on July 18, will make ARM a wholly owned subsidiary of SoftBank and has the potential to make the Japanese company the most powerful player in the global IoT market in the coming decades.

(Image source: SoftBank media presentation materials)
"This is one of the most important acquisitions we have ever made, and I expect ARM to be a key pillar of SoftBank's growth strategy going forward," Masayoshi Son, Chairman and CEO of SoftBank said in a press conference.
Son said that SoftBank believes its relationships will help accelerate the adoption of ARM technologies into existing and new markets and that SoftBank has the resources to further advance innovation as well as R&D at ARM.
Softbank originated as a software distributor in 1981 and expanded to include PC- and software-media publishing. The company primarily has grown by acquiring and growing communications companies in mobile and broadband markets, which secured it as tech segments, like the PC market, slowed over the years.
With mobile handsets beginning to reach market saturation, IoT is the clear next target, not only for SoftBank but many electronics industry players.
During the press conference, Son pointed to the large market growth opportunities for ARM in existing and emerging markets. SoftBank projects the mobile application processors market, for example, a market in which SoftBank estimates ARM already has an 85% share by volume as of 2015, to grow to $25 billion by 2020.
Son also pointed to the automotive market as an attractive area of growth - particularly because of the emergence of autonomous vehicles. As of 2015 ARM is projected by SoftBank as already having a 10% market share of the automotive chip market (which also includes infotainment systems) and the total available market is projected to reach $15 billion by 2020.
"Everything will be connected in the next 20 to 30 years," Son said. "So the next five years is the investment stage for the Internet of Things."
Buy's Broader Industry Impact
Founded in 1985, Acorn Computer Group developed the first commercial RISC processor and later became Advanced RISC Machines (ARM) after a spinoff of collaborative efforts between Acorn and then Apple Computer. Today, ARM's microprocessors are inside an estimated 95% of the world's smartphones, by the company's own estimates, and its designs are licensed by big industry names including Apple, Qualcomm, and Nvidia. The company also has a firm foothold in consumer electronics and various IT and IoT technologies including smart/connected cars, smart homes, and wearable technologies.
"The cost is steep for Softbank, representing its largest investment yet, but while ARM annual revenues for 2015 were just short of $1.5 billion, the company represents a crucial piece of technology that is in virtually all of the technology markets guiding the 'Information revolution' at the core of Softbank's vision," Tom Hackenberg, principal analyst for embedded processors, IHS Markit, wrote in a research note. "ARM is in almost every mobile handset on the current market and microcontrollers based on ARM core technology lead the market, with approximately 24% of all revenues going to microcontroller suppliers for MCUs based on ARM core technologies in 2015. ARM also announced last year their intention to be in 45% of servers by 2020 - an aggressive but significant sign of ARMs strategies for its system-on-chip (SoC) platforms for cloud computing growth."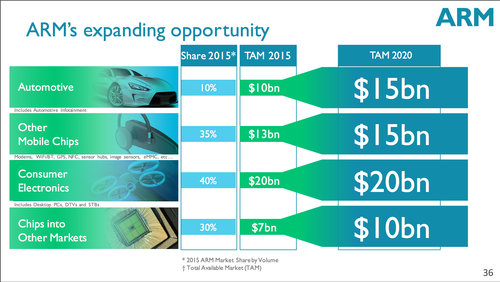 SoftBank believes ARM has huge growth potential in emerging markets including automotive, where connected cars and autonomous vehicles will represent large new revenue streams.

(Image source: SoftBank media presentation materials)
Analysts believe that Intel, in particular, could be hit hard by the SoftBank deal as a competitor. Intel was once looked at as a potential acquisition target by ARM and the company doesn't have the sort of strong foothold in telecom and IoT that ARM has because its x86 chip architecture is too power-consuming for devices like smartphones.
"While Softbank is interested in ARM, they are not the only players in the market who have a vested interest in the company," Hackenberg noted. Indeed, some of the largest semiconductor suppliers in the world have a significant stake in the future of ARM, including Apple, Broadcom, Qualcomm, and Japan's Renesas Electronics and Toshiba.
Hackenberg warned that while some of these tech giants could attempt to outbid Softbank to protect their own interests, that is unlikely. "ARM's critical stake in mobile technologies and IoT has been clear to these stakeholder's for decades now. An attempt by any one of them to control ARM could easily lead to a tremendous upheaval in the semiconductor industry. The vendors that are ARM's current primary customer base would quickly take offense to a competitor attempting to take control of their primary core supplier," he wrote adding that such a move could lead to bidding wars and reversal of market strategies regarding core technology investments.