When you think about the Internet of Things (IoT) in terms of medical devices, you generally think of wearable technology or other small devices that include sensors for monitoring. Now a group of German engineering students is taking this idea to the next level with the development of larger machinery -- a smart wheelchair and walker -- that can also monitor a patient's condition remotely.
Students at the Furtwangen University (HFU) in Germany have developed what they call the IoT Wheelchair and the IoT Walker, aimed at helping patients who live in remote areas where it's difficult to reach a local hospital or doctor but still may need fast and urgent care.
"When you have cardiac infarction (or heart attack) in Germany you will stay for five days in an intensive care unit and three days in a regular hospital room," Professor Achim Bumueller, the leader of the project at the university, told Design News in an interview. "Then you come home but you must be monitored for several weeks."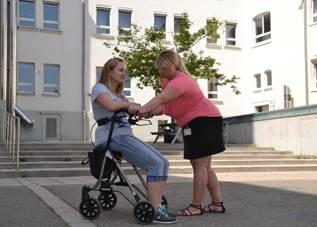 A group of German engineering students have built a wheelchair that uses IoT-connected sensors so doctors can monitor patient health remotely.
(Source: Furtwangen University)
For patients who live in the rural areas of the Black Forrest region of Germany, it can take up to an hour to reach a hospital, especially in snowy winter months, Bumueller said. "In that case our IoT help system -- wheelchair and walker -- can help to monitor the patient," he told us. "The patient can be monitored the whole day and must contact the doctor, for instance, only twice during the week."
The system works through sensors that measure vital parameters and send data about a patient's pulse rate and oxygen saturation, blood pressure, state control -- including motion and position -- body temperature, and GPS position control to the ThingWorx platform, Bumueller said. ThingWorx is an IoT application development framework for connecting devices in an IoT system.
The vital sensors are connected over Bluetooth with the Raspberry Pi microprocessor, which has a WLAN or GSM module and is connected to the cloud with ThingWorx, Bumueller said. In this way, the data is sent to doctors who are on standby in serious cases or to a control monitor that nurses oversee to keep track of how the patient is faring.
READ MORE ARTICLES ON MEDICAL DEVICES:
The invention is at the intersection of two fields of study at the university -- mechanical engineering and medical engineering -- and includes the discipline of mechatronics, combining mechanical, electrical, and computing elements, Bumueller said.
Two of the students involved in the project are currently working with the invention as part of what's called their "practical semester," in which they work on a specific engineering project, he said. Six other student projects that involve some kind of electrical, mechanical, and medical engineering also are subsets of the larger project.
The team is currently seeking financial sponsors and also has found an 80-year-old former inventor as a test subject for the IoT Walker, according to Bumueller added.
Elizabeth Montalbano is a freelance writer who has written about technology and culture for more than 15 years. She has lived and worked as a professional journalist in Phoenix, San Francisco, and New York City. In her free time she enjoys surfing, traveling, music, yoga, and cooking. She currently resides in a village on the southwest coast of Portugal.
Like reading Design News? Then have our content delivered to your inbox every day by registering with DesignNews.com and signing up for Design News Daily plus our other e-newsletters. Register here!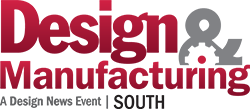 Design News will be in Orlando in November! Design & Manufacturing South will be in Orlando Nov. 18-19. Get up close with the latest design and manufacturing technologies, meet qualified suppliers for your applications, and expand your network. Learn from experts at educational conferences and specialty events. Register today for our premier industry showcase in Orlando.