There are a lot more robotic bugs out there now than there was the last time we did a robot bugs and worms slideshow. Some are very tiny -- as small as a penny -- and some are a lot bigger, like the hexapod that weighs more than two tons. Most are remote-controlled, or capable of being controlled wirelessly. Some of the bugs have very creepy, realistic movements. Many of the snakes and amphibians are designed for inspection or search and rescue operations, while the bug robots are more often aimed at working out specific theoretical problems.
When possible, I like to include toy robots in these slideshows because often their abilities seem at least as advanced as some of the more industrial-strength machines being developed in R&D labs. For example, the Roboboa from our previous robot snakes and worms slideshow has moves that compared quite well with other robots in that article: it can rotate, swivel, spin, lift itself, and rove around. The present slideshow is no exception. Click on the photo below to start it!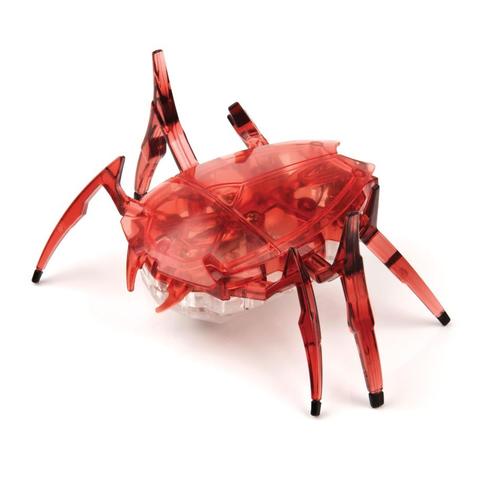 "Skittering" and "scuttling" are words the HEXBUG Scarab's maker uses to describe its movements. This brightly colored toy runs and jumps a lot like a real six-legged bug, and its does so really, really fast. Scarab's creators, Innovation First, decided to rely on mechanics instead of programming and sensors, in designing its actions. The Scarab XL version, a remote-controlled bug, moves its legs back and forth 1,200 times a minute using a motor and 16 gears. By making the legs slightly different lengths, the robotic bug has more random and lifelike movements, including not-entirely-straight directions and unexpected left or right turns. It can also right itself if it gets turned upside down. Scarab XL measures 3.5" x 7" x 4.75", weighs 10 oz, and requires 3 AA batteries plus a 9V battery for the remote.
(Source: Innovation First)
Check out this video of the HEXBUG Scarab. Its movements are highly natural and creepily accurate.
Related posts:
{doclink 268253}
{doclink 264353}
{doclink 264095}
{doclink 262372}
{doclink 261885}
{doclink 261111}
{doclink 259721}
{doclink 258291}
{doclink 257642}
{doclink 256965}
{doclink 255649}
{doclink 254560}
{doclink 253921}
{doclink 252415}
{doclink 251613}
{doclink 249584}
{doclink 250773}
{doclink 250698}
{doclink 249665}
{doclink 249134}
{doclink 249645}
{doclink 247668}
{doclink 246357}
{doclink 244549}
{doclink 239965}
{doclink 238273}
{doclink 235083}