Last week's Medical Design & Manufacturing Chicago show attracted more than 500 exhibitors and thousands of attendees from around the world with technologies ranging from automation and robotics to electronic test systems and 3D printers.
The UBM Canon event also incorporated a conference focusing on a wide variety of technical topics, including advanced technology, engineering design, and quality control.
Here we offer a look at some of the show's best visual elements. As always, exhibitors displayed their latest, greatest, and most eye-catching technologies.
Click the image below to start the slideshow.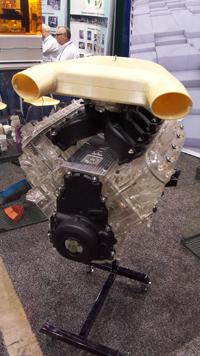 Forecast 3D showed off a replica it built of the classic Chevy Corvette LS7 small-block engine using rapid prototyping. Engineers used fused deposition modeling to print the intake manifold from an Ultem 9085 thermoplastic. They made the engine block in a two-step process -- employing stereolithography to build a master and then encapsulating it in silicone to create a mold. The company has used the mold to create 25 urethane castings of the block. The block replica is so detailed that it has real pistons, and oil can run through it.
(Source: Design News)
Related posts:
{doclink 259184}
{doclink 257641}
{doclink 257818}
{doclink 231757}
{doclink 230114}