The government wants to study your brain, and DARPA wants to use similar information to give robots true autonomy beyond any artificial intelligence developed to date. Sound like science fiction? It's not. Here's how I found out.
First, President Obama announced the BRAIN (Brain Research through Advancing Innovative Neurotechnologies) Initiative in his April state of the union address, funded initially by about $100 million of his fiscal 2014 budget. According to a White House fact sheet, BRAIN is intended to boost R&D in medical fields. These include the treatment -- and perhaps cure or even prevention -- of Alzheimer's, conditions resulting from brain injuries, and epilepsy. Initial funds will come from the National Science Foundation, the National Institutes of Health (NIH), and DARPA, and will be overseen at the top level by an NIH-directed working group. By this fall, the working group will file an interim report detailing its top priority recommendations for research investments in fiscal 2014, and a final report in June 2014.
Click the image below to start the slideshow.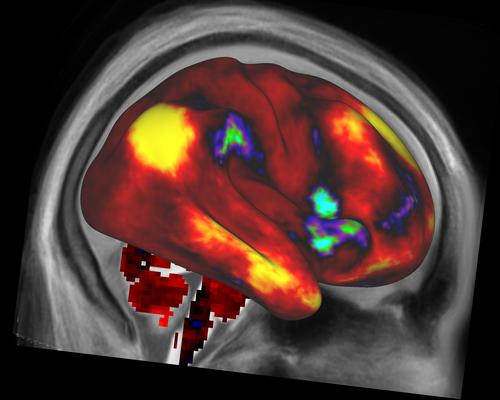 A map of average "functional connectivity" in the human cerebral cortex, including subcortical gray matter. Regions shown in yellow are functionally connected to a "seed" location in the parietal lobe of the right hemisphere, and regions shown in red and orange are weakly connected or not connected at all.
(Source: WU/Minn Consortium)
The possible intersection between such benign-sounding research and autonomous robots developed by DARPA for unstated purposes lies in the new technologies being developed under BRAIN. According to the fact sheet, these will produce pictures of the brain showing "how individual brain cells and complex neural circuits interact at the speed of thought." The technologies developed will "explore how the brain records, processes, uses, stores, and retrieves vast quantities of information, and shed light on the complex links between brain function and behavior."
I don't know about you, but reading about any technology that gives someone else an idea of what any one of my brain cells is doing while I'm thinking gives me the creeps. Yet the fact sheet's description of DARPA's role also appears benign. The agency intends to "develop a new set of tools to capture and process dynamic neural and synaptic activities" for applications "that dramatically improve the way we diagnose and treat warfighters suffering from post-traumatic stress, brain injury, and memory loss."
Those applications sound great, and a long way from robots of any kind. But I happened to discover that some closely related research is already underway, under DARPA's Physical Intelligence (PI) program. Not much information is available from the agency itself, only a very short description on the program's webpage that's downright vague, even for the military. The key information lies in the project's implementation objective, which is "to demonstrate the first human-engineered open thermodynamic systems that spontaneously evolve nontrivial 'intelligent' behavior under thermodynamic pressure from their environment." That means essentially autonomous systems.