A free, informative tour you can attend at the upcoming Design & Manufacturing Minneapolis, MD&M Minneapolis, and other events there is the Materials Innovation Tour. The tour will be held once during the show on Wednesday afternoon, and I'll be leading it.
These tours have proved very popular at previous UBM shows. Two other Innovation Tours will also be held in Minneapolis this year, one on medical packaging technology and one on the Medtech Innovation Prize finalists. You can learn more about all three tours here.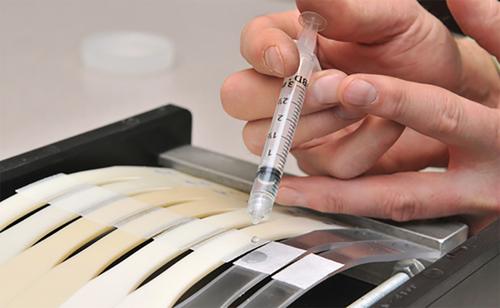 Custom compounder RTP is a likely stop on the Materials Innovation Tour at the upcoming D&M and MD&M Minneapolis shows. To develop a new polymer that would better resist sterilization procedures, it tested several for damage resistance to hospital cleaners and disinfectants. It then optimized the best performing alloy for physical and other properties, working with large device makers through several iterations.
(Source: RTP Company)
Tours are about 60 minutes long and each visits about six exhibitor booths. Each tour leader is well versed in the field, and provides a running commentary as you walk the show floor, pointing out the latest technologies, innovations, and industry trends. Likely candidates for this year's Materials Innovation Tour include DSM (Booth 1304), Evonik (Booth 1308), Fabrico Medical (Booth 2608), Heraeus Medical Components (Booth 2005), Liquidmetal Technologies (Booth 2432), and RTP (Booth 1711).
Each of these companies is well-known for innovative materials technologies, some of them for several different kinds. RTP Company, for example, has developed carbon fiber-reinforced thermoplastic compounds for injection molding that rival metals in their strength and stiffness. It has also invested heavily in R&D to develop better materials for medical devices, most notably after last year's widely publicized multiple sterilization failure cases.
---

Innovation Tour. Join Ann Thryft, Design News Senior Technical Editor covering materials and assembly, for a tour of the Expo floor to explore innovation in materials, adhesives & cutting-edge polymers during Medical Design & Manufacturing. Sept. 21-22, 2016 in Minneapolis. Register here for the event, hosted by Design News' parent company UBM.

---
Other companies are known for multiple materials innovations, some of them originating in different divisions. For example, Heraeus is a huge, vertically integrated company with multiple divisions. The Medical Components business unit exhibiting at the show has access to technologies throughout the supply chain that can contribute to better medical device design, including base materials all the way up to advanced component assembly.
For example, a different part of the company recently announced new material and system solutions for rollable and foldable electronics displays and touchscreens. Yet another group in Heraeus was recently the first in the world to figure out how to 3D print "liquid" metal, also called amorphous metals because of their disordered, non-crystalline atomic structure when solid.
Some innovative companies don't make materials, but come up with new ways of putting them together, such as adhesive techniques for joining multiple materials. Fabrico doesn't make adhesives and other flexible materials, but it provides materials converting services, and tests and recommends materials, conversion processes, and assembly methods. Medical applications have grown so much that the company opened a new division, Fabrico Medical, in 2013, and that's the one exhibiting at the Minneapolis shows. It performs wound care materials conversion, and works with medical-grade bonding adhesives and films for devices and diagnostic equipment, FDA-compliant pouches and packages, and disposable surgical materials.
The Materials Innovation Tour will be held from 1-2 p.m. on Wednesday, Sept. 21. You don't need a reservation for any of the tours, but there are only 20 spaces, and it will be tough to hear the guide (me) without a headset. So come about 15 minutes early before the show starts to make sure you can get a headset. Tours will depart from the Center Stage at Booth 1555 on the Expo floor.
Ann R. Thryft is senior technical editor, materials & assembly, for Design News. She's been writing about manufacturing- and electronics-related technologies for 29 years, covering manufacturing materials & processes, alternative energy, and robotics. In the past, she's also written about machine vision and all kinds of communications.