Scientists at MIT, Massachusetts General Hospital, Living Proof, and Olivo Labs have worked together to develop a new polymer that they said is like a "second skin" and could potentially be used in the treatment of aging symptoms or to deliver medications for skin conditions.
A team overseen by Daniel Anderson, an associate professor in MIT's Department of Chemical Engineering Scientists at MIT, worked with the other collaborators to develop the silicone-based polymer, which can be applied to the skin as a thin coating that is nearly imperceptible to the user, according to researchers.
The polymer's key benefit is that it mimics the mechanical and elastic properties of healthy and youthful skin, and can be used in several ways to repair the damage of aging or to deliver medication to treat skin conditions such as eczema and other types of dermatitis, Anderson said in an article on the MIT website.
"It's an invisible layer that can provide a barrier, provide cosmetic improvement, and potentially deliver a drug locally to the area that's being treated," he said. "Those three things together could really make it ideal for use in humans."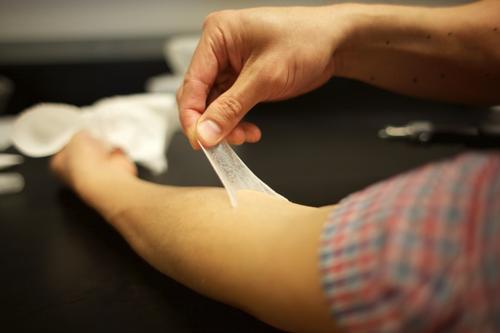 Researchers from MIT, Mass General, Living Proof and Olivo Labs have developed a new polymer that's like a "second skin" and has potential uses for the treatment of aging or delivering of medication. Daniel Anderson, an associate professor in MIT's Department of Chemical Engineering, said the material is an invisible layer that can provide a barrier, provide cosmetic improvement, and potentially deliver a drug locally to the area that's being treated.
(Source: MIT)
The team has been working on the polymer for five years, beginning with an aim to develop a material that could not only help patients aesthetically but also be able to deliver treatment for skin conditions.
"The medical part was very important to the team," a spokeswoman from Olivo Labs told Design News. Olivo Labs was spun out of Living Proof, a cosmetic and beauty product company, to develop the cross-linked polymer layer (XPL), as well as provide other solutions to skin-related medical conditions through proprietary biomaterials technologies.
"We started thinking about how we might be able to control the properties of skin by coating it with polymers that would impart beneficial effects," Anderson said. "We also wanted it to be invisible and comfortable."
The team seems to have found what it was looking for with the polymer, known as a XPL for its chemical properties. In tests in which it was applied to the under-eye area where "eye bags" often form as skin ages, it applied a steady compressive force that tightened the skin, an effect that lasted for about 24 hours, researchers said.
READ MORE ARTICLES ON HEALTHCARE TECH:
Another study applied the XPL to forearm skin to test its elasticity, proving after being distended with a suction cup that it returned to its original position faster than untreated skin. This shows its viability as a way to deliver medication for skin conditions, said Dr. Rox Anderson, Harvard Professor, Olivo co-founder, and Dermatologist at Massachusetts General Hospital, in the article.
"This 'skin conforming' platform brings with it transport properties that have significant promise to treat underlying conditions," she said. "For eczema or sun protection, as examples, this second skin platform can then serve as a reservoir for control-release transdermal drug delivery or SPF ingredients, a possibility we are currently pursuing in our lab."
In their work, researchers examined more than 100 possible polymers, all of which contained a chemical structure known as siloxane — a chain of alternating atoms of silicon and oxygen. They tested the materials in search of one that would best mimic the appearance, strength, and elasticity of healthy skin before deciding on the chosen XPL.
In laboratory tests, the XPL used in the study easily returned to its original state after being stretched more than 250 percent, compared to the ability of natural skin to be elongated about 180 percent. The novel XPL's elasticity also proved much better than that of two other types of wound dressings currently used on skin--silicone gel sheets and polyurethane films.
An article co-authored by Olivo Labs' Anderson; MIT's Anderson; senior author and fellow MIT Professor Robert Langer; lead author Betty Yu, a former vice president at Living Proof; and others has been published in an online version of Nature Materials. Langer and Anderson are co-founders of Living Proof and Olivo Labs, and Yu earned her master's and doctorate at MIT.
Researchers declined to comment specifically on the next steps for their research, other than to say it has potential for both cosmetic and noncosmetic applications and will be further developed at Olivo Labs.
Elizabeth Montalbano is a freelance writer who has written about technology and culture for more than 15 years. She has lived and worked as a professional journalist in Phoenix, San Francisco, and New York. In her free time she enjoys surfing, traveling, music, yoga and cooking. She currently resides in a village on the southwest coast of Portugal.