The Department of Defense (DoD) continues its groundbreaking work in mechatronics and neural technologies to innovate prosthetics and mechanical limbs. The latest breakthrough from the Defense Advanced Research Projects Agency (DARPA)—the DoD's research arm—is a mechanical hand that uses neural technology connected to a mechanical hand to give users a sense of touch.
Working with researchers in the Applied Physics Lab at Johns Hopkins University, DARPA was able to give a 28-year-old test patient who's been paralyzed for more than a decade as a result of a spinal cord injury the ability to "feel" physical sensations through a mechanical hand connected directly to his brain.
Researchers at Johns Hopkins developed the mechanical hand, which was wired to electrode arrays on both the patient's sensory cortex and motor cortex. This allowed him to control the movements of his hands with his thoughts, marking the second time DARPA has achieved this with a paralyzed person. Additionally, sophisticated torque sensors in the hand can detect when pressure is being applied to any of its fingers, and converting those physical "sensations" into electrical signals.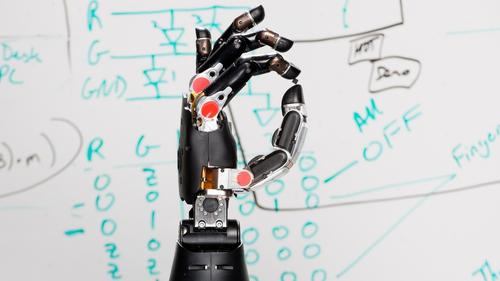 The project, part of DARPA's Revolutionizing Prosthetics program, uses neural technologies developed by DARPA that are wired to the patient's brain.
(Source: Johns Hopkins University)
DARPA's Revolutionizing Prosthetics program is overseeing the clinical work, with neural technology-based advances emerging from DARPA's 18-month-old Biological Technologies Office, said Justin Sanchez, DARPA program manager, in a press statement released to Design News.
"We've completed the circuit," Sanchez said. "Prosthetic limbs that can be controlled by thoughts are showing great promise, but without feedback from signals traveling back to the brain it can be difficult to achieve the level of control needed to perform precise movements. By wiring a sense of touch from a mechanical hand directly into the brain, this work shows the potential for seamless bio-technological restoration of near-natural function."
Researchers conducted a number of tests on the patient to ensure that the connections between his brain and the hand were legitimately giving him a sense of touch, according to DARPA. In first tests, researchers gently touched each of the prosthetic hand's fingers while the volunteer was blindfolded. With nearly 100 percent accuracy he was able to report which mechanical finger was being touch, saying that he felt as if his own hand was being touched, according to DARPA.
"At one point, instead of pressing one finger, the team decided to press two without telling him," Sanchez said. "He responded in jest asking whether somebody was trying to play a trick on him. That is when we knew that the feelings he was perceiving through the robotic hand were near-natural."
DARPA is conducting various research in prosthetics to improve the experience for the user. The agency recently awarded a $6.98 million contract to DEKA Innovative Solutions Corp. to continue development of another next-generation prosthetic called the DEKA Arm System. The funding was made available through DARPA's Hand Proprioception & Touch Interfaces (HAPTIX) program.

We're heading to Philly and Houston! Design & Manufacturing Philadelphia will take place Oct. 7-8, while Design & Manufacturing Texas will be in Houston Oct. 13-14. Get up close with the latest design and manufacturing technologies, meet qualified suppliers for your applications, and expand your network. Learn from experts at educational conferences and specialty events. Register today for our premier industry showcases in Philadelphia and Texas!
Elizabeth Montalbano is a freelance writer who has written about technology and culture for more than 15 years. She has lived and worked as a professional journalist in Phoenix, San Francisco and New York City. In her free time she enjoys surfing, traveling, music, yoga and cooking. She currently resides in a village on the southwest coast of Portugal.