It's one thing to make bio-based plastics, that is, plastics made from biological materials. It's quite another to make new bioplastics that are also biodegradable -- especially those that biodegrade only under the right conditions.
After a decade of research, a team at Stanford University and IBM Research have developed what they say is a catalyst that could efficiently and inexpensively generate biodegradable plastics, in this case polyesters, that are derived from renewable materials. The drive, of course, is to stop the huge quantities of non-biodegradable, petroleum-based plastics from going to the landfill. As we told you this past spring, a report by two major foundations and research firm McKinsey & Company found only 14% of plastic packaging material is recycled and 32% completely escapes collection systems.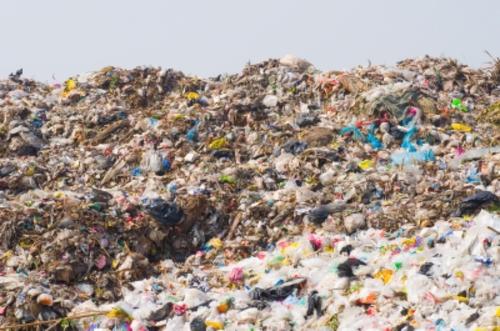 A cheaper, easier way to convert plants into common consumer plastics that decompose over time could provide an alternative to both recyling non-biodegradable petroleum-based plastics, and to the huge quantities of them that end up in landfills.
(Source: hinnamsaisuy/FreeDigitalPhotos.net)
So far, most bioplastics that are also biodegradable, as well as other renewably sourced biodegradable plastics, have had to sacrifice some strength for that biodegradability. Usually, quite a lot. Most of them are still the type that can be used for food service items or packaging rather than aircraft parts, and their price is still higher than the petroleum-based kind.
Most of the catalysts typically used to make biodegradable plastics are metal-based. These don't degrade in the environment, and they are also difficult or expensive to remove from the final material. But the new catalyst is made from common organic compounds, lowering its environmental impact. The team created it by reacting common chemical ingredients: thiourea with a metal alkoxide.
The resulting catalyst is both fast and selective, a combination that's rare, said Robert Waymouth, the Robert Eckles Swain Professor in Chemistry at Stanford, and one of the team's leaders. That combination means that the new catalyst design does an excellent job of accelerating reactions and facilitating them. It also means that, once the resulting polymer has been formed, the catalyst won't change either its properties or its shape. It also requires only simple preparation and is easy to use by anyone with a basic knowledge of chemistry, said Waymouth. All these combine to lower the cost of materials made with it.
READ MORE ARTICLES ON BIOPLASTICS:
Waymouth said the new catalyst can be used to generate several different kinds of plastics for different types of applications, due to the fact that it is highly tunable. For example, it can produce PLA (polylactic acid), a commercial, compostable, biodegradable polyester that's commonly used in disposable food service items such as tableware, cups, plates and forks. Tuning it differently could produce several products for medical applications, such as resorbable sutures, implants, stents, implants, and drug-delivery materials. Other types include non-woven fabrics and food packaging.
"What's exciting about this discovery is that we now have a cheaper way to convert plants into common consumer plastics that decompose over time, providing an alternative to recycling plastics," said Gavin O. Jones, computational chemist for IBM Research. "Making biodegradable plastics mainstream means less impact on our solid waste systems."
The team published the results of its work in an article in Nature Chemistry. Other team members include co-leader James Hedrick, lead researcher in advanced organic materials for IBM Research; and Stanford graduate student Xiangyi Zhang, who conducted the experimental work.
Ann R. Thryft is senior technical editor, materials & assembly, for Design News. She's been writing about manufacturing- and electronics-related technologies for 29 years, covering manufacturing materials & processes, alternative energy, and robotics. In the past, she's also written about machine vision and all kinds of communications.